Former First Lady Michelle Obama beat out former First Lady and Secretary of State Hillary Clinton for Gallup's "Most Admired Woman" in the U.S. in 2018.
The poll released on Thursday shows that Obama took the number one spot, which Clinton had held for the past 17 years.
Not only did Clinton lose her top spot, but she ranked third behind Oprah Winfrey who ranked second.
Gallup reports,
For the first time in 17 years, a woman other than Hillary Clinton has been named by Americans as the woman they admire most. Former first lady Michelle Obama, who finished second to Clinton three times and is currently touring to promote her recently released autobiography, won by a significant margin this year. Oprah Winfrey was second, with Clinton and Melania Trump next.

…

Winfrey has never finished first, but has been second on 14 occasions. Clinton has finished first 22 times -- more than any other man or woman -- including in 1993 and 1994, 1997 through 2000, and 2002 through 2017. Clinton has finished second on three occasions, third once (this year) and fourth once (in 1992).
Other notable mentions include Queen Elizabeth who ranked fifth, German Chancellor Angela Merkel who ranked sixth, talk show host Ellen DeGeneres who ranked seventh, outgoing U.S. Ambassador to the United Nations Nikki Haley who ranked eighth, and House Democratic leader Nancy Pelosi who ranked 10th.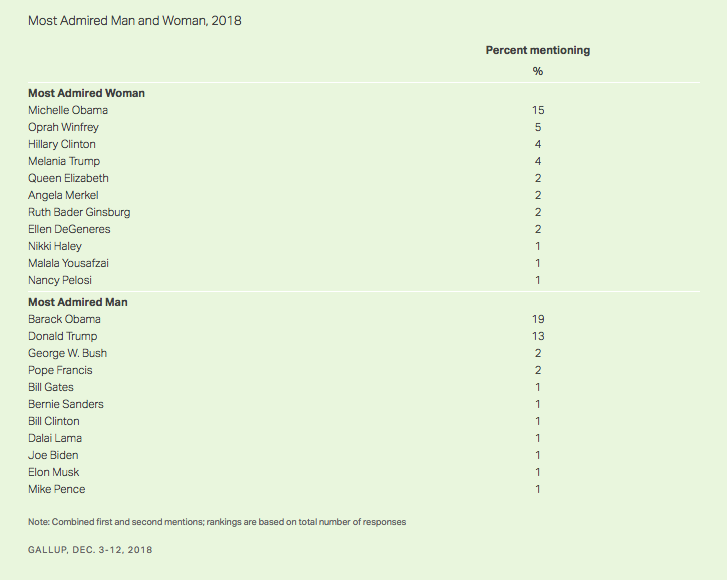 For "Most Admired Man 2018," former President Barack Obama took the number one spot for the 11th year in a row, meanwhile President Donald Trump ranked second for the fourth year in a row.  
The annual survey was conducted Dec. 3-12 and asked Americans to name the man and woman they admire most.
(Cover Photo: Gage Skidmore / Flickr)