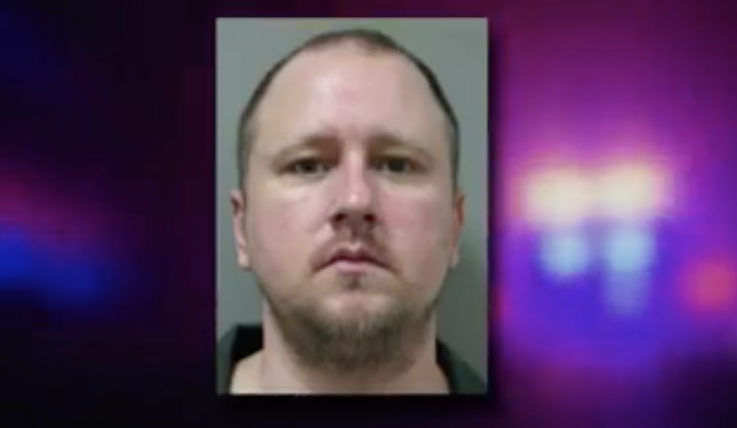 (Image: Montgomery Co. Police)
This story involves yet another monster that should be taken into a field and treated like "Old Yeller."
Kyle S. Thompson, 31 of Burtonsville, Md., is facing a multitude of charges after he allegedly filmed himself sexually abusing "at least" three children.
Every part of this story should make anyone sick to their stomach, but perhaps the most disgusting aspect of the children's ordeal with Thompson came during one of the videos when one of the children yelled out, "I want my mommy!"
"Your mommy can't save you now," Thompson's responded to the child.
According to WUSA:
An anonymous source told police Thompson showed off several videos of him having sex and molesting a 4-year-old girl and two other underage females.

Another video showed the girl's arms tied with a belt. She cried while Thompson performed a sexual act, police said.

Investigators said he raped and beat one victim's mother and held a handgun in her mouth to intimidate her. They believe there are more victims out there, and they're urging them to call Montgomery Police or the FBI.
If you want to see a face of evil, there's no need to look further than Thompson's mugshot (pictured above).
WUSA also reported:
Police discovered Thompson has 15 registered weapons and asked for him to be held without bond.

Thompson denied everything when confronted by police and said he didn't know the victims.

Thompson is facing two counts of sex abuse of a minor, two counts of first degree sex offense, and one count of third degree sex offense.
Authorities have also stated that Thompson had child pornography on several computers and storage devices.
Lock him up and throw away the key.
For video of this story, watch below:
MRCTV Reader,
The liberal media are terrified of the truth, especially when it leads to uncomfortable questions about their own leftist worldview.
MRCTV is the multimedia division of MRC featuring original content and aggregated videos of the news, people, and events conservatives care about.
MRCTV relies on the support of our loyal readers (and video viewers) to keep providing the news and commentary that matter to the American people, not just stories that prop up the liberal agenda.
Make a donation today. Just $15 a month would make a tremendous impact and enable us to keeping shining the light where the liberal media are afraid to tread.
— The MRCTV Team
DONATE
Connect
Sign up for our MRCTV newsletter to receive the latest news.
Sponsored Links