The Socialists are coming! The Socialists are coming! As one Twitter user said, "The UK is the reason the US has a 2nd Amendment."
London Mayor Sadiq Khan tweeted out a message for the people of his city saying that "there is never a reason to carry a knife."
Here's Khan's tweet: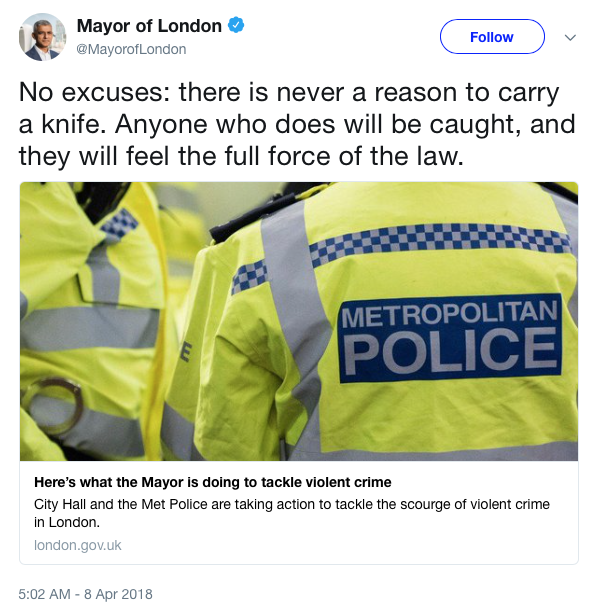 Some Twitter users didn't take Khan's tweet as positively as Khan probably had hoped:


Amid a rash of stabbings and other violent crime happening in the English capital - and as evidenced by Khan's tweet - the mayor's office released a statement of action enacting extra resources to combat the rise of knife crime.
"The Mayor is determined to ensure criminals are caught and punished – but he's also investing millions in tackling the complex root causes of violent crime to help prevent future deaths," the statement read.
One would have to assume that murder and assault were already illegal in Britain before Khan began his quest to leave Londoners completely defenseless. Opponents of Khan might say that actually allowing police to enforce the laws already on the books would prevent from enacting more rules and regulations, but that wouldn't feed into the Socialist mantra of absolute government power, would it?
The statement includes a five-point plan in which the Met Police will receive extra support from the mayor's office in order to combat violent crime, particularly knife crimes. The plan includes "boosting police power," "preventing further violence," "tackling gang violence," "action plans under way" and a "city hall summit."
Just like a Socialist, passing the ball down the chain so that nothing ever truly gets done. You wouldn't need all of these "actions" if the city of London didn't leave it's officers defenseless. A baton doesn't always stop a knife attack and definitely can't stop bullets.
Shoving millions of British pounds at a problem won't fix the problems. Common sense law enforcement would at least be a start, but don't rely on the powers-that-be in London to use common sense in combatting violent crime.