There's a disturbing new trend on the Left that abandons their usual narrative of leading with their feelings. Their push for "a time for action" is all well and good, since politicians typically do nothing, but their timing stinks.
In the immediate wake of the Sunday night's mass shooting in Las Vegas, Democrats wasted no time not only politicizing the event, but also chastising people for mourning the passing of the growing number of innocent people who were senselessly murdered during what should have been a fun evening.
One such example is that of Rep. Seth Moulton's (D-Mass.) tweet and subsequent actions about not wanting to observe a moment of silence for those lost on the House floor because those moments "just become an excuse for inaction."
Here are Moulton's tweets about his self-righteousness: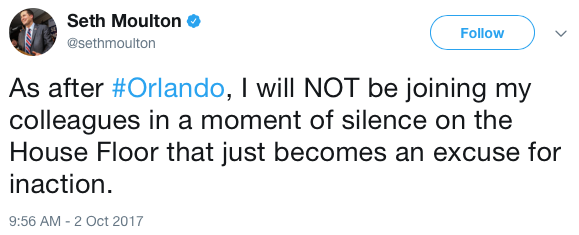 Moulton was even kind enough to put blood on the hands of Speaker Paul Ryan: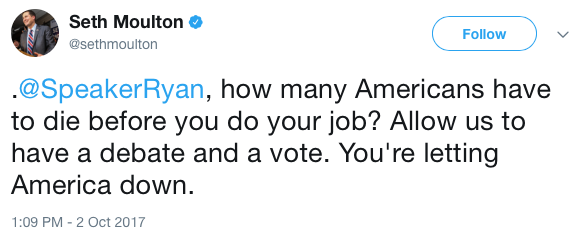 Fox News reported:
Moulton was joined by Rep. Katherine Clark (D-MA), who also boycotted[...]

He and several Democrats also refused to stand for a moment of silence for the victims of the June, 2016 Pulse nightclub shooting in Orlando, Florida.
The bashing of people who sent their "thoughts and prayers" to those affected by the tragedy has gained steam among news organizations on the Left, as evidenced by this Washington Post article.
"The phrase 'thoughts and prayers' has received a lot of well-deserved mocking lately," Ron Charles wrote in the first sentence of his article.
The whole argument is that your "thoughts and prayers" have never stopped a mass shooting. That is obvious to anyone with half a brain, but don't mock people for caring about the loss of life — something the Left has never had a problem doing (i.e. the killing of babies through abortion).
Conversely, it could be argued that all of the extra laws and regulation the Left have put on guns in major cities, like Chicago, haven't stopped gun violence either.
This is simply not working.
Allow people the time to grieve, because it's a natural human emotional reaction. After that, sit down and have the debate over what to do about gun violence.