When will people learn that there is absolutely no reason for drag queens to be reading stories to children? It's just weird.
In Devon, England, things got even weirder than "just reading to kids," a drag queen performing at a Devon Library thought it proper to do a popular dance with his young audience — he decided to teach them how to twerk.
"Mama G is back in Devon this week," Devon Libraries posted to Twitter. "Combining panto, drag and the traditional art of story-telling: Mama G will be sharing tales that celebrate being who you are & loving who you want."
Mama G goes around the UK reading kids stories "about being who you are and loving who you want," according to Devon Live. But how does bouncing your "bum" in front of kids accomplish this?
"Does anybody in this room know how to twerk?" Mama G asks the group watching her. "I will just give you a very quick demonstration."
"All you need to do is you just need to stand with your feet sort of shoulder-width apart like so," he continued. "I'll show you from the side so you get a better view of it. And you crouch down into this sort of position so your bum's sticking out — I hope you're taking this all in. And then you just move your bum up and down like that, and that's twerking."
Laughing can be heard from what sounds like parents in the room but those on Twitter didn't seem to think it was funny.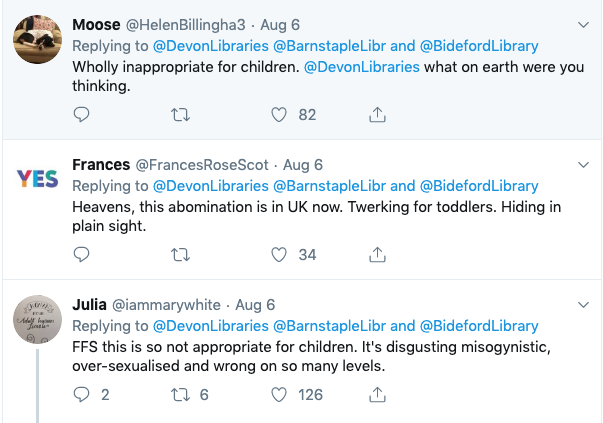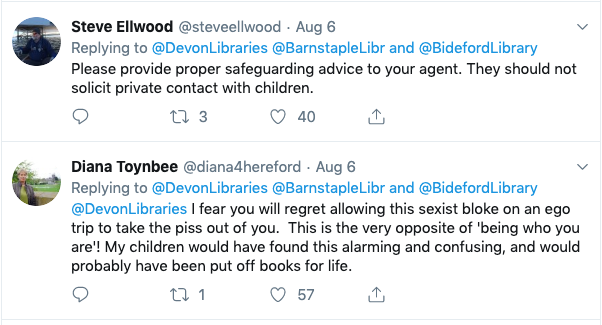 The library responded to the parental outrage with the following statement to Devon Live:
"Story times and bounce and rhyme sessions are some of our most popular events across the county, with thousands of children attending each year.  We host a variety of themed storytimes and they are always a huge success."

"As a charity, we are committed to ensuring our libraries are welcoming, safe and inclusive places for all. We celebrate the arts, equality and diversity and are proud that our libraries offer a space for communities to come together and enjoy the power of words, reading and storytelling."

"At Libraries Unlimited we take our safeguarding responsibilities very seriously and have a safeguarding policy that is followed by all staff across the organisation."

"In this case, we can also confirm that the artist involved has a Disclosure and Barring Service (DBS) check."

"Libraries are open to all, and we hope that everyone will find something suitable for them amongst our diverse range of activity across Devon and Torbay."
H/T: Life Site News
MRCTV Reader,
The liberal media are terrified of the truth, especially when it leads to uncomfortable questions about their own leftist worldview.
MRCTV is the multimedia division of MRC featuring original content and aggregated videos of the news, people, and events conservatives care about.
MRCTV relies on the support of our loyal readers (and video viewers) to keep providing the news and commentary that matter to the American people, not just stories that prop up the liberal agenda.
Make a donation today. Just $15 a month would make a tremendous impact and enable us to keeping shining the light where the liberal media are afraid to tread.
— The MRCTV Team
DONATE
Connect
Sign up for our MRCTV newsletter to receive the latest news.
Sponsored Links