During Vice President Mike Pence's visit to an immigration detention facility in McAllen, Texas, last Friday, one photo was snapped that has taken the internet by storm.
Dubbed by conservative commentator Scott Greer, "ICE bae," Kiara C., an Immigrations and Customs Enforcement (ICE) officer based in Texas, has the total respect of conservative Twitter.
Greer in his tweet poked fun at people who call our immigration facilities "concentration camps" by referring to her as a guard at one.
The original photo has since been shared over 2,700 times and garnered nearly 13,000 likes. 
But not everyone has love for "#ICEbae." Many on Twitter viciously attacked the Latina officer.

Still, the haters have not affected her as she posted to Twitter proclaiming the love she has for her job and country: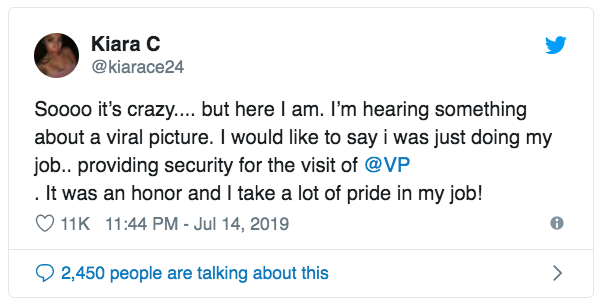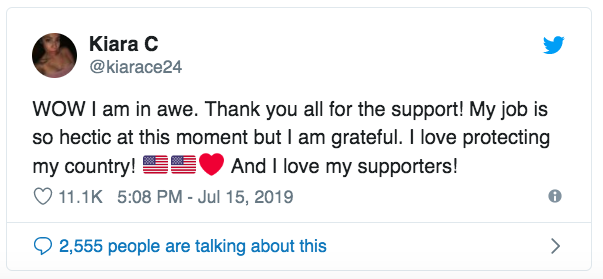 (Cover Photo: Twitter / Scott Greer)
MRCTV Reader,
The liberal media are terrified of the truth, especially when it leads to uncomfortable questions about their own leftist worldview.
MRCTV is the multimedia division of MRC featuring original content and aggregated videos of the news, people, and events conservatives care about.
MRCTV relies on the support of our loyal readers (and video viewers) to keep providing the news and commentary that matter to the American people, not just stories that prop up the liberal agenda.
Make a donation today. Just $15 a month would make a tremendous impact and enable us to keeping shining the light where the liberal media are afraid to tread.
— The MRCTV Team
DONATE
Connect
Sign up for our MRCTV newsletter to receive the latest news.
Sponsored Links