Homeland Security Secretary Kirstjen Nielsen issued a memorandum to the U.S. Customs and Border Protection Commissioner Kevin McAleenan on Monday, outlining new steps the agency will take to combat the growing security crisis at the southern border.
"We will not stand idly by while Congress fails to act yet again, so all options are on the table," Nielsen says in the memorandum. "We will immediately redeploy hundreds of CBP personnel to the border to respond to this emergency. We will urgently pursue additional reinforcements from within DHS and the interagency. And we will require those seeking to enter the United States to wait in Mexico until an immigration court as reviewed their claims."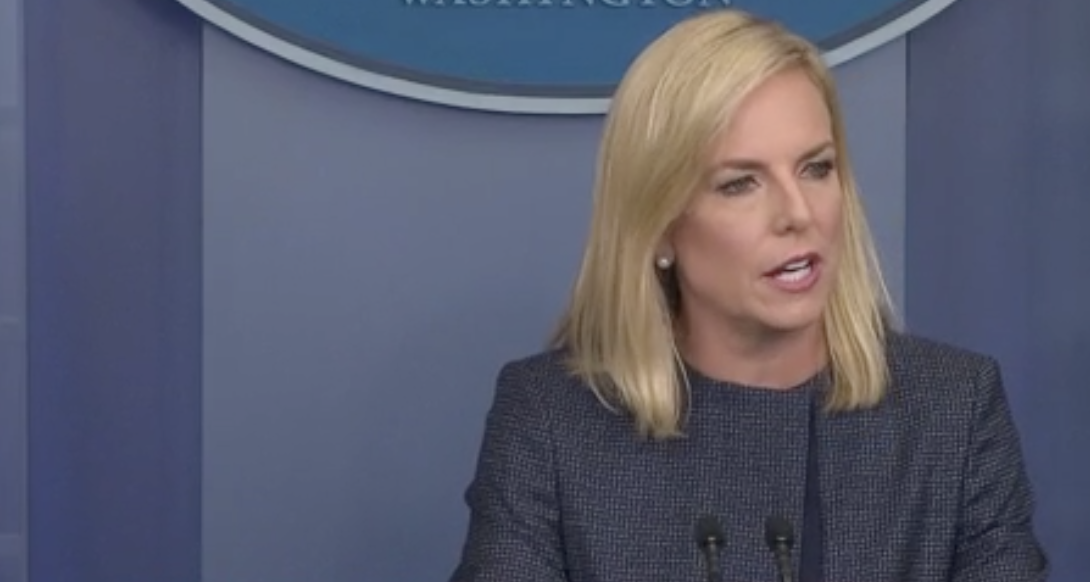 (Homeland Security Secretary Kirstjen M. Nielsen)
According to the Homeland Security release, "the CBP Office of Field Operations shall accelerate its planned reallocation of up to 750 officers to Border Patrol Sectors that are affected by the emergency. Moreover, CBP is directed to explore raising that target, is authorized to exceed it, and shall notify the secretary if reassignments are planned to exceed 2,000 personnel."
Nielsen also requested an expansion of the Migrant Protection Protocols, a DHS initiative to return migrants to Mexico to wait during the pendency of their U.S. immigration proceedings.
"Secretary Nielsen further directed CBP to immediately expand the Migrant Protection Protocols (MPP), a DHS initiative to return aliens to Mexico to wait during the pendency of their U.S. immigration proceedings. The Secretary directed CBP to return hundreds of additional migrants per day above current rates to Mexico, consistent with U.S. law and humanitarian obligations."
MRCTV Reader,
The liberal media are terrified of the truth, especially when it leads to uncomfortable questions about their own leftist worldview.
MRCTV is the multimedia division of MRC featuring original content and aggregated videos of the news, people, and events conservatives care about.
MRCTV relies on the support of our loyal readers (and video viewers) to keep providing the news and commentary that matter to the American people, not just stories that prop up the liberal agenda.
Make a donation today. Just $15 a month would make a tremendous impact and enable us to keeping shining the light where the liberal media are afraid to tread.
— The MRCTV Team
DONATE
Connect
Sign up for our MRCTV newsletter to receive the latest news.
Sponsored Links