It seems if Hillary Clinton disagrees with you – you're in the pocket of Russia.
Hillary has targeted Rep. Tulsi Gabbard (D-HI), Donald Trump and Green Party candidate Jill Stein as all being connected to Russia.
"So now Crooked Hillary is at it again! She is calling Tulsi Gabbard 'a Russian favorite,'and Jill Stein 'a Russian Asset,' Trump tweeted over the weekend. "As you may have heard, I was called a big Russia lover also (actually I do like Russian people. I like all people!). Hillary's gone Crazy!"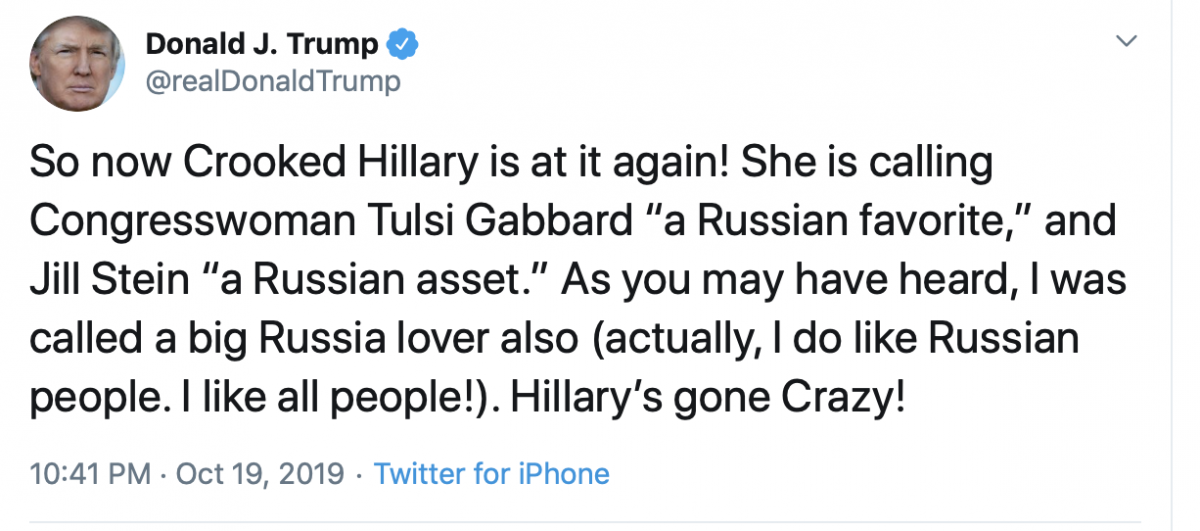 In an interview on the podcast "Campaign HQ," Clinton suggested Gabbard is the "favorite of the Russians" in the presidential race and are assisting in making her a third party candidate.
"And that's assuming Jill Stein will give it up, which she might not because she's also a Russian asset," Clinton said in the interview.
Gabbard responded by tweeting that Clinton was "queen of the warmongers, embodiment of corruption, and personification of the rot that has sickened the Democratic Party" which led to #queenofthewarmongers to trend on Twitter.
Gabbard has also pointed out that the media has been quick to echo the 'Russian' mantra by claiming she's an "asset of Russia"
She called out CNN as "completely despicable" for making the comments during a presidential debate on the network last week.
MRCTV Reader,
The liberal media are terrified of the truth, especially when it leads to uncomfortable questions about their own leftist worldview.
MRCTV is the multimedia division of MRC featuring original content and aggregated videos of the news, people, and events conservatives care about.
MRCTV relies on the support of our loyal readers (and video viewers) to keep providing the news and commentary that matter to the American people, not just stories that prop up the liberal agenda.
Make a donation today. Just $15 a month would make a tremendous impact and enable us to keeping shining the light where the liberal media are afraid to tread.
— The MRCTV Team
DONATE
Connect
Sign up for our MRCTV newsletter to receive the latest news.
Sponsored Links