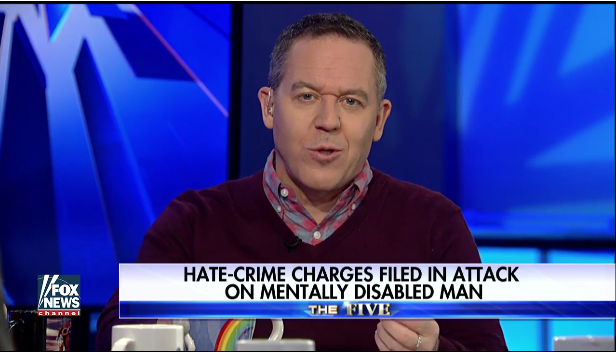 Greg Gutfeld of Fox News' "The Five" took to the airwaves last night to give his two cents on the disgusting attack broadcast on Facebook Live earlier this week, in which four black teens are seen beating and torturing a mentally disabled white male.
Gutfeld argued that "hate crime laws suck," because people -- and the media -- spend more time debating the arbitrary definition of a "hate crime" instead of focusing on the actual crime itself.
"It's black on white crime, there's no hijab on the victim, so it just doesn't fit the media narrative," he said.
This undeniably evil crime shouldn't be dividing us over how it's classified, but should instead unite us in a shared horror and the need for what Gutfeld calls a "clear-eyed punishment."
"A violent crime is a hate crime, no matter who the victim is," he said.
Watch the full clip below:
MRCTV Reader,
The liberal media are terrified of the truth, especially when it leads to uncomfortable questions about their own leftist worldview.
MRCTV is the multimedia division of MRC featuring original content and aggregated videos of the news, people, and events conservatives care about.
MRCTV relies on the support of our loyal readers (and video viewers) to keep providing the news and commentary that matter to the American people, not just stories that prop up the liberal agenda.
Make a donation today. Just $15 a month would make a tremendous impact and enable us to keeping shining the light where the liberal media are afraid to tread.
— The MRCTV Team
DONATE
Connect
Sign up for our MRCTV newsletter to receive the latest news.
Sponsored Links