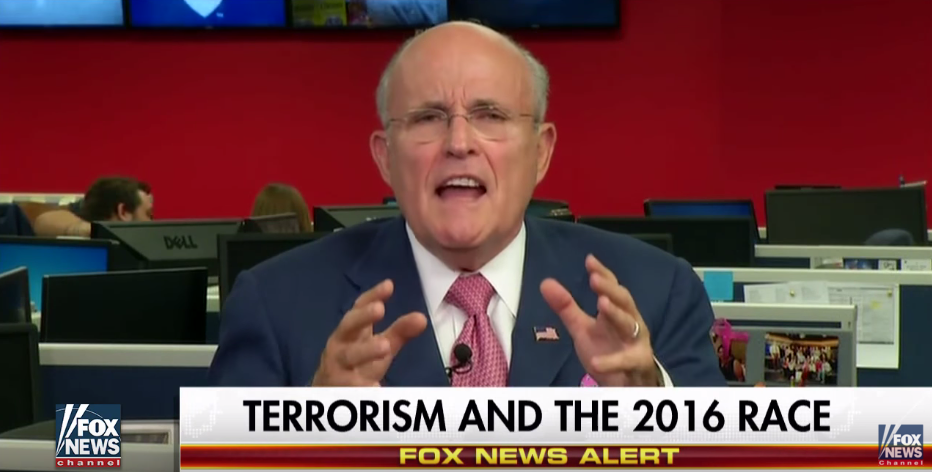 (Image via Screenshot)
Former New York City Mayor Rudy Giuliani said during an appearance on "Hannity" Monday night that "profiling is absolutely appropriate and necessary" in the fight against terrorism, so long as it's done "based on fact and not prejudice."
He said as mayor, he used FBI profilers to help him solve crimes.
"Profiling is absolutely appropriate and necessary to solve crimes, so long as it's based on fact and not prejudice," said Giuliani.
In response to the terror attacks in New Jersey and New York on Sunday, Giuliani blamed President Barack Obama and Democratic presidential nominee Hillary Clinton. 
"I put the responsibility for ISIS completely on Obama and Hillary Clinton," said Giuliani. "This would not have happened had they not withdrawn the troops from Iraq."
"We're living in a much more complex and dangerous world than we were living in before President Obama and Hillary Clinton came into office," he argued.
Check out the rest of his remarks in the video below. 
MRCTV Reader,
The liberal media are terrified of the truth, especially when it leads to uncomfortable questions about their own leftist worldview.
MRCTV is the multimedia division of MRC featuring original content and aggregated videos of the news, people, and events conservatives care about.
MRCTV relies on the support of our loyal readers (and video viewers) to keep providing the news and commentary that matter to the American people, not just stories that prop up the liberal agenda.
Make a donation today. Just $15 a month would make a tremendous impact and enable us to keeping shining the light where the liberal media are afraid to tread.
— The MRCTV Team
DONATE
Connect
Sign up for our MRCTV newsletter to receive the latest news.
Sponsored Links