In response to 'Defund the Police' efforts, some Florida House and Senate members are taking deliberate action to back the boys in blue.
Florida House Bill 1 (FL H.B. 1) and Florida Senate Bill 484 (FL S.B. 484) have been introduced with the intent to restructure the way Florida combats public disorder.
The bill seeks to provide greater rights to residents living in areas where there have been cutbacks on police officers' budgets. It also sets in place guidelines for courts to follow when rioters injure law enforcement officers, including a minimum imprisonment term for acts of battery. Criminal behavior, like fighting, burglary, and damaging materials, would also receive revisions courtesy of this bill. FL H.B. 1 and S.B. 484  extensive revisions include new definitions and penalties for offenses involved in violent or disorderly assembly, with the most notable including:
A six month mandatory minimum jail sentence for striking a law enforcement officer.
The absence of bond or bail options until first court appearance
Racketeer Influenced and Corrupt Organizations (RICO) liability for organization or funding.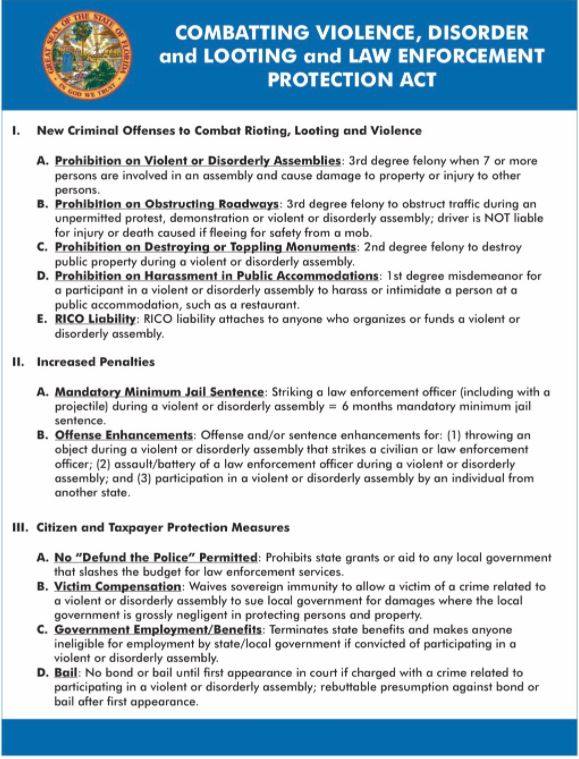 Some members of the community that came out to speak in opposition of the measure donned shirts from the Tallahassee Community Action Center, an organization with a vision statement that includes, "We recognize that we live under a capitalist system fueled by imperialism and white supremacy that upholds itself via systemic oppression."
A citizen in opposition to the bill cited following the Criminal Justice & Public Safety subcommittee meeting that, "...If you support this bill you are a white supremacist," (seen in the video below).
Taylor Walker, with the College Republicans of Florida State University's Executive Board, spoke out in support of the measure on January 27th, "Our social fabric is tearing and this recent wave of extreme violence is resulting in a side effect that is incumbent upon us to address. I implore you to consider each element of this bill and vote ensuring the safety of Floridians in these pressing times." While Florida has leaned on the peaceful side, this proactive legislation could be the leader in cracking down on the destruction we have seen across the nation, from riots in Portland, looting in New York City, and injured officers in West Philadelphia.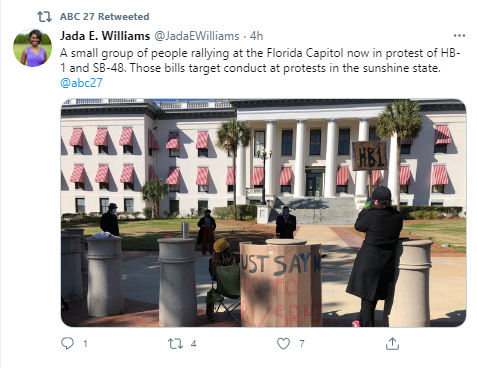 This bill, which has already garnered the support of Governor Ron DeSantis on September 21, 2020, was filed in the House by Florida State House Representative Juan Fernandez-Barquin along with several cosponsors and in the Senate by Florida State Senator Danny Burgess on January 6, 2021.
 "I am a fan of the first amendment, and there is a thin line between the first amendment and violence. And when that violence begins that is when someone's first amendment rights, when they are no longer protected by their first amendment rights." - Florida State House Representative Juan Fernandez-Barquin, in his introduction of the bill in the Criminal Justice and Public Safety Subcommittee
It has already been passed favorably by the Criminal Justice and Public Safety Subcommittee (11Y-6N-1A), and is now on its way to the Justice Appropriations Subcommittee.