"It made me have goosebumps the minute I realized what they did," said Lake Lure, N.C. resident Shannon Wilson in a Facebook post on Saturday.
What gave Wilson "goosebumps" should make every American worth their salt proud of their municipal servants like firefighters.
Wilson had been evacuated for seven days due to the wildfire that is continuing its path in North Carolina. She returned Saturday to find that the fire spared her home due to the intervention of firefighters.
What Wilson did not expect was what she saw in between her screen door and front door.
"…they took my flag down and off the flag pole..rolled it up and put it in my glass door so it wouldn't get burned by the fire," Wilson wrote.
Even in the face of such a stressful situation, the firefighters paid respect to the country and the citizens they protect from tragedy.
Below is Wilson's full Facebook post: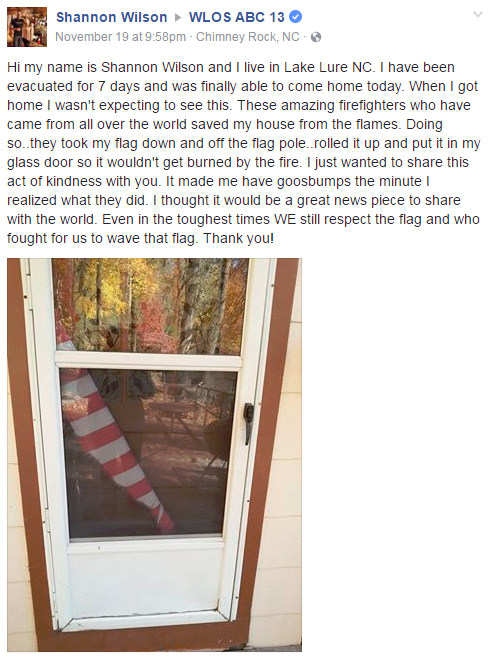 H/T: WLOS
Thank you for supporting MRCTV! As a tax-deductible, charitable organization, we rely on the support of our readers to keep us running! Keep MRCTV going with your gift here!