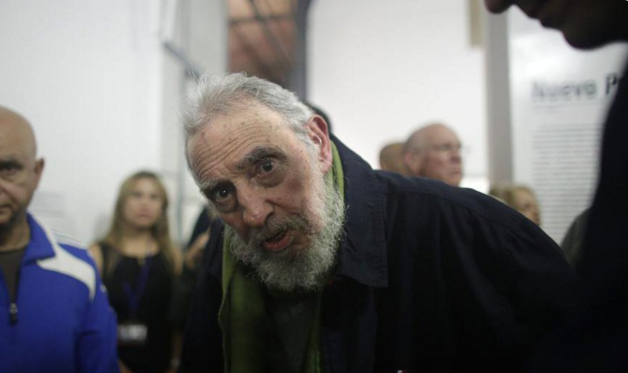 (Image via Twitter)
Former Cuban leader Fidel Castro was quick to criticize Barack Obama following the President's historic visit to Cuba back in March.
In an opinion piece titled "Brother Obama" in El Granma, the official state newspaper of the Cuban Communist Party, Castro pushed back against Obama's efforts to normalize relations between Cuba and the U.S.   
"Obama delivered a speech which he used to express the most honeyed words: 'It's high time to forget the past, leave the past, look to the future, together, a future of hope…' It's assumed that each of us were at risk of a heart attack upon hearing these words from the President of the United States," wrote Castro, citing the decades-long U.S. embargo on Cuba and the Bay of Pigs invasion in 1961.
"My modest suggestion is that he reflects and doesn't try to develop theories about Cuban politics," he fired.
Castro went on to say that Cuba "has no need for gifts" from the U.S. "empire." 
"We are capable of producing the food and material wealth that we need with the work and intelligence of our people," he wrote.
The former Cuban political leader and revolutionary passed away on Saturday. 
The left seemed to mourn Castro in its coverage of his death, ignoring his history of human rights abuses and political oppression. 
MRCTV Reader,
The liberal media are terrified of the truth, especially when it leads to uncomfortable questions about their own leftist worldview.
MRCTV is the multimedia division of MRC featuring original content and aggregated videos of the news, people, and events conservatives care about.
MRCTV relies on the support of our loyal readers (and video viewers) to keep providing the news and commentary that matter to the American people, not just stories that prop up the liberal agenda.
Make a donation today. Just $15 a month would make a tremendous impact and enable us to keeping shining the light where the liberal media are afraid to tread.
— The MRCTV Team
DONATE
Connect
Sign up for our MRCTV newsletter to receive the latest news.
Sponsored Links