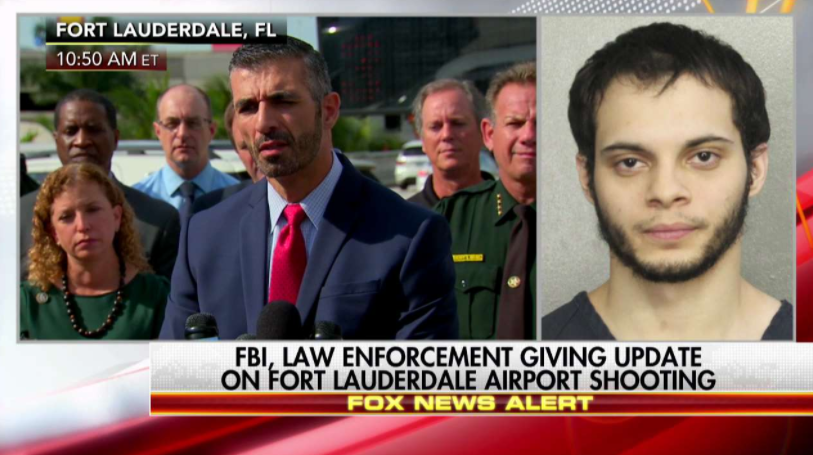 (Image via Twitter)
Miami FBI Special Agent George Piro said in a press conference on Saturday that the suspected gunman who opened fire at the Ft. Lauderdale-Hollywood International Airport "came here specifically to carry out this horrific attack."
As to the possible motive for the deadly shooting on Friday that left five people killed and several injured, Piro said, "We have not identified any triggers that would have caused this attack."
"We have not ruled out anything," he added. "We continue to look at all avenues, all motives."
Many questions loom as the FBI's investigation continues.
The shooter has been identified as Esteban Santiago, a 26-year-old who lives in Alaska and served in the Alaska Army National Guard for nine years.
He reportedly declared his weapon, a semi-automatic 9 mm handgun, on a flight from Alaska to Florida.
Santiago retrieved his checked handgun upon arrival at baggage claim, where he pulled out his weapon and opened fire, killing five people and injuring 13.
Three of those injured are currently in critical condition at a local hospital. 
There is suspicion that Santiago had mental health issues. 
He served in the Alaska Army National Guard from Nov. 2014 to Aug. 2016. Just months after being discharged for unsatisfactory performance, Santiago in early November reportedly checked himself into the FBI office in Anchorage, "telling agents he was being directed by a US intelligence agency to fight for ISIS," law enforcement sources told CNN.
He was turned over to local authorities and voluntarily submitted to a mental health evaluation.
It is unclear why or how Santiago had access to a weapon following his encounter with the FBI. 
The motive for the shooting rampage remains uncertain, though the FBI is "continuing to look at the terrorism angle," Piro told reporters Saturday.
Santiago will be charged today and is currently sitting in county jail.