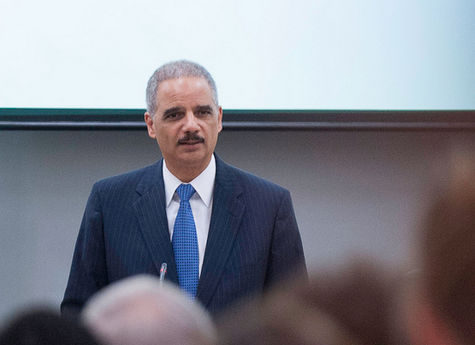 As the "White House Summit on Countering Violent Extremism" drew to a close Thursday, U.S. Attorney General Eric Holder discussed the accomplishments of the event.
"I believe that, over the course of this summit, we have greatly advanced the cause of combating violent extremism," he said.
Much like President Obama's remarks on the so-called "causes and antidotes to violent extremism," Holder praised the summit attendees—governments, civil society groups, and community leaders from more than 60 nations—for their ability to "compare notes" on how to "stop radicalization before it starts."
"During these past few days, we have been able to compare notes on how we are engaging in outreach on the local level so we can foster trust, improve awareness and educate communities about violence risk factors," Holder said. "We have been able to focus on working to stop radicalization before it starts, by eliminating conditions that lead to alienation and violent extremism and empowering young people and other vulnerable communities to reject destructive ideologies."
He went on to say that, while the U.S. and its partners will be taking measures to address violent extremism at its origins, "some will remain committed to terrorism."
That being said, he called for "joint action to stop the travel of such individuals and to bring them to justice," as if that were enough.   
"Of course, we have also recognized that, despite our best efforts, some will remain committed to terrorism; and so we have used yesterday's Ministerial to commit to joint action to stop the travel of such individuals and to bring them to justice."
The U.S. Attorney General later suggested we study the factors that lead to gang involvement akin to those of violent extremism.
"In both instances, the sense of belonging to a cause, however misguided, may be a lure for disaffected young people—and understanding this potential link may help us tackle the problem of violent extremism." 
He continued, "There are several anti-gang initiatives that have had success in the past, and the lessons learned from those experiences could potentially be applied to the issues we are discussing today."
In addition to studying the similarities among gangs and Islamic terror groups, the administration seeks to examine the role that online social media plays in radicalization so as to "develop more effective techniques and partnerships for counter-messaging." 
Holder concluded his remarks,
"Now, the work we are all engaged in is ongoing, and we have a great deal left to do... But as long as we keep learning from one another, supporting one another, and striving to move forward as one community of nations, I have no doubt that we can meet this threat with confidence and with resolve."
MRCTV Reader,
The liberal media are terrified of the truth, especially when it leads to uncomfortable questions about their own leftist worldview.
MRCTV is the multimedia division of MRC featuring original content and aggregated videos of the news, people, and events conservatives care about.
MRCTV relies on the support of our loyal readers (and video viewers) to keep providing the news and commentary that matter to the American people, not just stories that prop up the liberal agenda.
Make a donation today. Just $15 a month would make a tremendous impact and enable us to keeping shining the light where the liberal media are afraid to tread.
— The MRCTV Team
DONATE
Connect
Sign up for our MRCTV newsletter to receive the latest news.
Sponsored Links