Really?
51% of American voters under 35 believe it is at least somewhat likely humanity will be wiped out in the next decade or so.
That's the results of A ScottRasmussen.com/HarrisX survey released yesterday. 
If you look at all age groups, overall, 71% disagree and believe that it is unlikely humans will be wiped out because the earth is uninhabitable.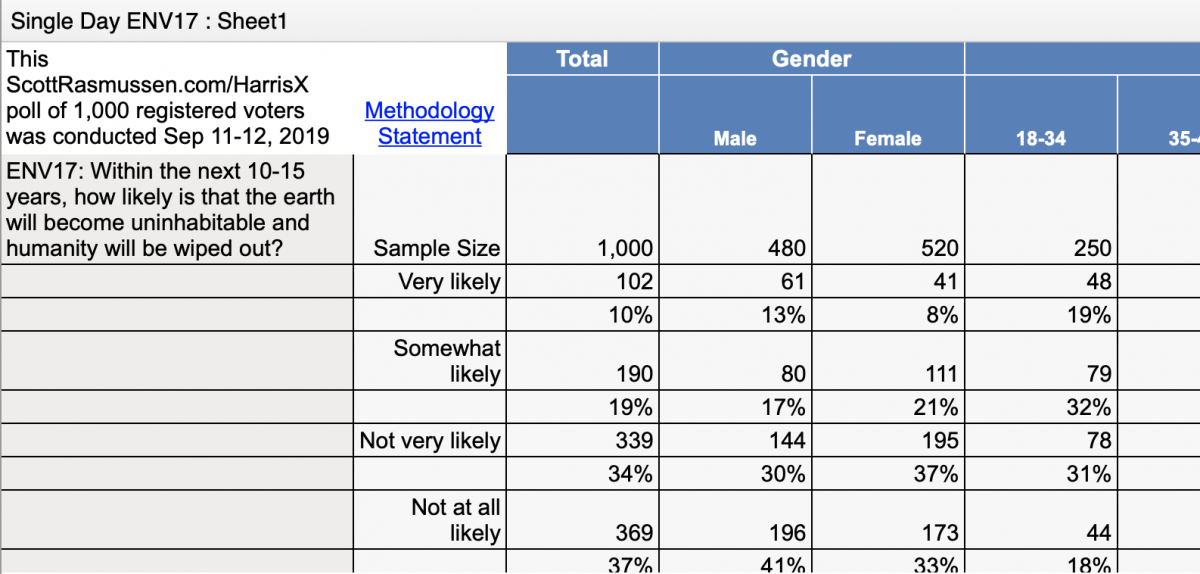 Granted the sample size of this survey was only 1000 people, but it does show the impact that repeating a doomsday scenario can have. Only 250 of the survey's participants were under age 34.
It's hard to believe it was just over forty years ago that the thought of purposely melting polar ice caps and ice flows to prevent a new "ice age" was actually being considered (watch the video above).
MRCTV Reader,
The liberal media are terrified of the truth, especially when it leads to uncomfortable questions about their own leftist worldview.
MRCTV is the multimedia division of MRC featuring original content and aggregated videos of the news, people, and events conservatives care about.
MRCTV relies on the support of our loyal readers (and video viewers) to keep providing the news and commentary that matter to the American people, not just stories that prop up the liberal agenda.
Make a donation today. Just $15 a month would make a tremendous impact and enable us to keeping shining the light where the liberal media are afraid to tread.
— The MRCTV Team
DONATE
Connect
Sign up for our MRCTV newsletter to receive the latest news.
Sponsored Links