It's time to begin questioning any prestige Harvard University once had. When your Twitter profile claims that you are "Good at protesting, bad at spelling" one could easily imagine Lori Loughlin making a "donation" to Harvard on ill-informed activist David Hogg's behalf.
Hogg really seems to have a problem with the LEGAL term, "illegal alien."
Take a look:

I'm glad Hogg believes he's so "woke" and "tolerant," but his future experience at Harvard might eventually teach him that "illegal alien" is a legal term.
According to the House of Representatives Office of the Law Revision Counsel website, 8 USC, Ch. 12, §1365. Reimbursement of States for costs of incarcerating illegal aliens and certain Cuban nationals states the following:
(b) Illegal aliens convicted of a felony

     An illegal alien referred to in subsection (a) is any alien who is any alien convicted of a felony who is in the United States unlawfully and—

          (1) whose most recent entry into the United States was without inspection, or

          (2) whose most recent admission to the United States was as a nonimmigrant and—

                (A) whose period of authorized stay as a nonimmigrant expired, or

                (B) whose unlawful status was known to the Government,

     before the date of the commission of the crime for which the alien is convicted.
Don't worry. Besides the lesson in U.S. law Hogg was just given, Twitter users didn't let Hogg slide either: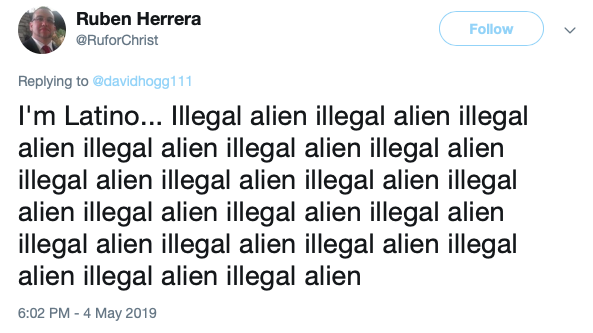 You have awarded no points for your incorrect assertion, David. Please try again.
H/T: Twitchy