It seems as though the shake-up at The Blaze isn't quite over just yet.
Conservative radio and TV host and NRA spokeswoman Dana Loesch announced on the "Dana Show" Wednesday that she will be leaving The Blaze.
"It's been a really, really fun time," Loesch told her viewers. "But sometimes, good things must come to an end. And so this is going to be my last week here at The Blaze."
Here's video of Loesch breaking the news to her viewers:
The news of Loesch's departure comes a little over two months after The Blaze founder Glenn Beck announced that he had to let go of one-fifth of his staff.
Loesch did lament she won't be working with her current colleagues anymore.
"Our crew here, and the staff here, is absolutely amazing," Loesch said. "There's just a very good group of people here that have made it a very fun place to work."
Loesch also posted a message to her Facebook page, indicating that she will make decision in the new year: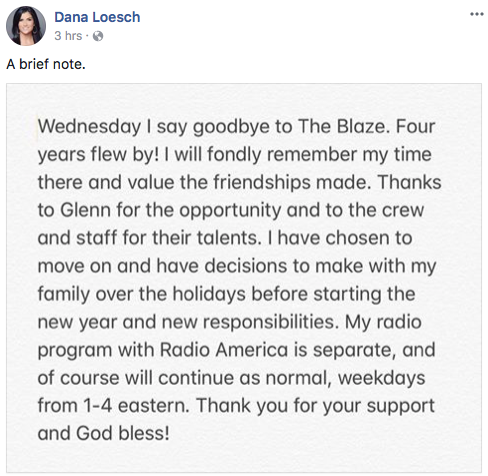 H/T: Daily Wire