It seems as though the shake-up at The Blaze isn't quite over just yet.
Conservative radio and TV host and NRA spokeswoman Dana Loesch announced on the "Dana Show" Wednesday that she will be leaving The Blaze.
"It's been a really, really fun time," Loesch told her viewers. "But sometimes, good things must come to an end. And so this is going to be my last week here at The Blaze."
Here's video of Loesch breaking the news to her viewers:
The news of Loesch's departure comes a little over two months after The Blaze founder Glenn Beck announced that he had to let go of one-fifth of his staff.
Loesch did lament she won't be working with her current colleagues anymore.
"Our crew here, and the staff here, is absolutely amazing," Loesch said. "There's just a very good group of people here that have made it a very fun place to work."
Loesch also posted a message to her Facebook page, indicating that she will make decision in the new year: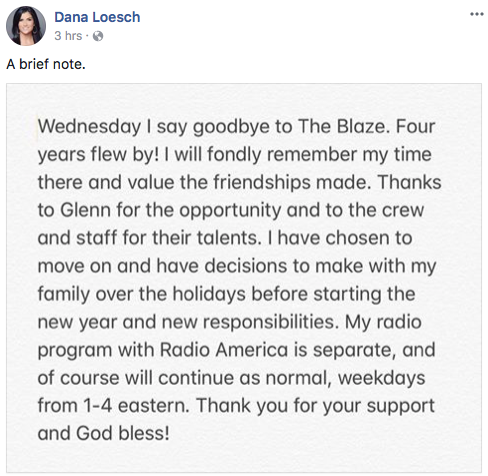 H/T: Daily Wire
MRCTV Reader,
The liberal media are terrified of the truth, especially when it leads to uncomfortable questions about their own leftist worldview.
MRCTV is the multimedia division of MRC featuring original content and aggregated videos of the news, people, and events conservatives care about.
MRCTV relies on the support of our loyal readers (and video viewers) to keep providing the news and commentary that matter to the American people, not just stories that prop up the liberal agenda.
Make a donation today. Just $15 a month would make a tremendous impact and enable us to keeping shining the light where the liberal media are afraid to tread.
— The MRCTV Team
DONATE
Connect
Sign up for our MRCTV newsletter to receive the latest news.
Sponsored Links