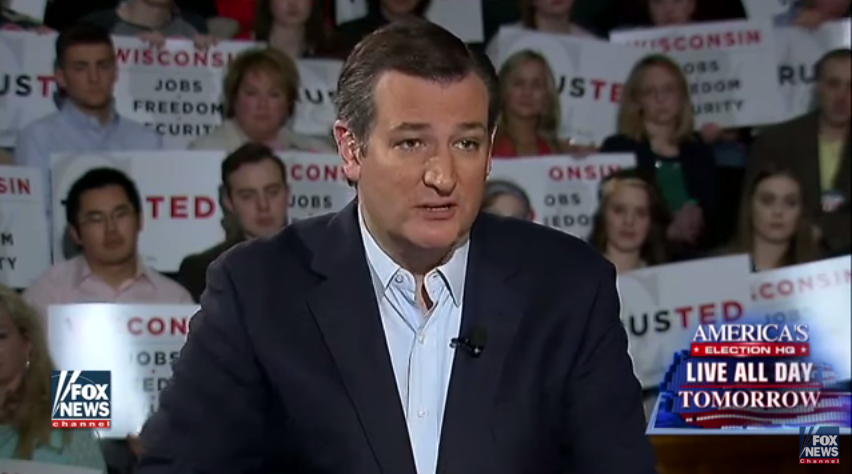 (Image via Screenshot)
During a town hall moderated by Fox News' Megyn Kelly in Wisconsin on Monday, Republican presidential candidate and Texas senator Ted Cruz said that while he himself is pro-life and would favor a ban on abortion, the American public must decide whether abortion should be made illegal.
"I am pro-life," said Cruz. "I believe that we should protect every human life… from the moment of conception."
"I will say, there is more and more consensus we are seeing on this issue," he went on. "It is my hope that we see peoples' hearts and minds change but this is an issue where it's going to take time for peoples' hearts and minds to change. If you're going to change a major issue of public policy, the way to do so, I believe, is the ballot box."
He called the Roe v. Wade decision a "classic example" of judicial activism, and that the American people should vote on important public policy issues such as abortion, rather than a bench of "five unelected lawyers just imposing their views on everybody else."   
"I believe under our Constitution we have a democratic society, and that if someone wants to pass legislation limiting or expanding abortion, the way to do that is to convince your fellow citizens to make the case at the ballot box, and I think that ultimately is the check to both your views and my views," said Cruz.
"I think all of us should agree that it's a much better system to have important public policy issues decided by the people."
Listen to the rest of his remarks in the video clip below.