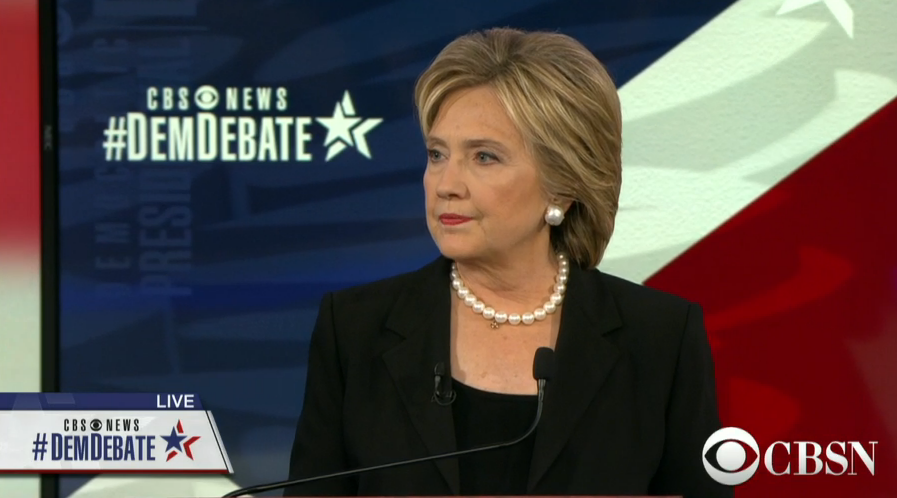 During the Democratic primary debate in Des Moines, Iowa Saturday night, presidential candidate Hillary Clinton said that the U.S. should support countries who "take the fight" to terrorist organizations like ISIS, but the war against radical extremism ultimately "cannot be an American fight."
"ISIS cannot be contained. It must be defeated," said Clinton. 
"We will support those who take the fight to ISIS… [But] this cannot be an American fight," she argued. 
"But American leadership is essential," Clinton added.
The former secretary of state said that the use of military force should be the "last resort" in the fight against ISIS, behind the avenues of diplomacy and special operations.
Former Maryland governor Martin O'Malley spoke up against Clinton's remarks. He argued that "this actually is America's fight," to be made in collaboration with our European allies and beyond. 
"This actually is America's fight," said O'Malley. 
"It cannot solely be America's fight," he conceded. "[But] America is best when we are actually standing up to evil in this world, and ISIS — make no mistake about it — is evil in this world."
"We do have a role in this — not solely ours," O'Malley went on. "But we must work in collaboration with others." 
MRCTV Reader,
The liberal media are terrified of the truth, especially when it leads to uncomfortable questions about their own leftist worldview.
MRCTV is the multimedia division of MRC featuring original content and aggregated videos of the news, people, and events conservatives care about.
MRCTV relies on the support of our loyal readers (and video viewers) to keep providing the news and commentary that matter to the American people, not just stories that prop up the liberal agenda.
Make a donation today. Just $15 a month would make a tremendous impact and enable us to keeping shining the light where the liberal media are afraid to tread.
— The MRCTV Team
DONATE
Connect
Sign up for our MRCTV newsletter to receive the latest news.
Sponsored Links