(Tweet contains strong language)
While Donald Trump and Hillary Clinton engaged in verbal warfare Sunday night during their second presidential debate, a member of Clinton's campaign staff took to Twitter and caused a firestorm of his own.
Jesse Lehrich, foreign policy spokesman for the Clinton campaign, tweeted out some strong words at Donald Trump when the two candidates were using a Gold Star family as a political football.
Trump and Clinton mentioned late Army Capt. Humayun Khan, who died in Iraq in June 2004, multiple times during the debate when speaking about the Middle East.
At one point, Trump responded to Clinton's use of Capt. Khan's name in criticizing Trump's stance on Islam:
Capt. Khan is an American hero, and if I were president at that time, he would be alive today because unlike [Hillary Clinton], who voted for the [Iraq] war without knowing what she was doing. I would not have had our people in Iraq. Iraq was a disaster. So he would have been alive today.
The Lehrich tweet that followed wasn't the Clinton campaign's best attempt at "going high."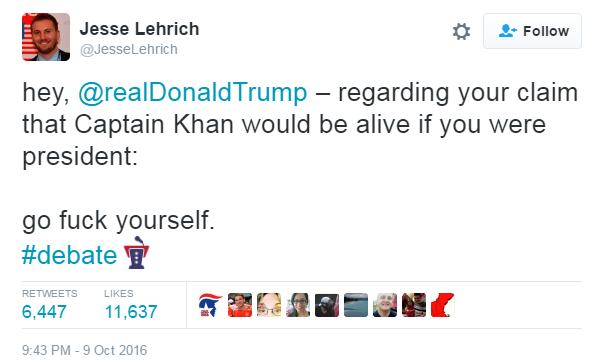 Lehrich later apologized in a later tweet: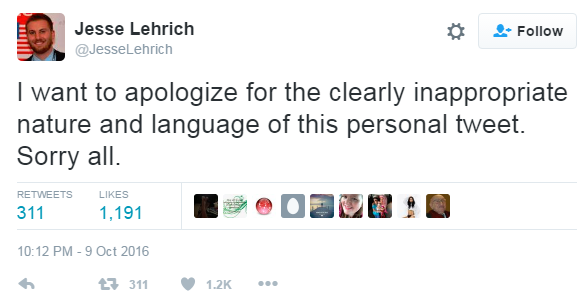 The usual suspects, the media, were their normally silent selves in post-debate coverage, according to NewsBusters.
Instead of getting angry over a comment during the debate, maybe people should be upset that any nominee from any party uses deceased military members as a way to score political points.
Thank you for supporting MRCTV! As a tax-deductible, charitable organization, we rely on the support of our readers to keep us running! Straight from Founder and President, Brent Bozell, please read the MRC request for support here to see how you can join the movement!