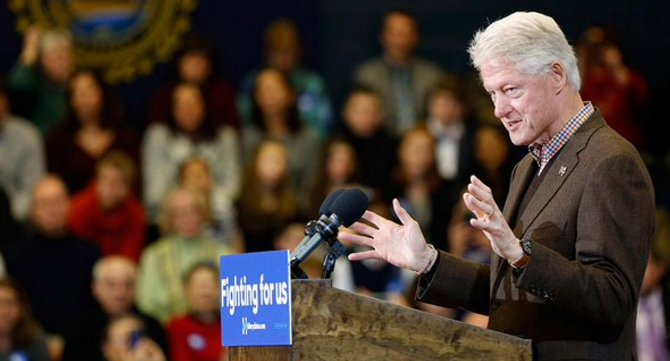 Image via Twitter
Former president Bill Clinton campaigned for former secretary of state and Democratic presidential front-runner Hillary Clinton in New Hampshire on Monday.
When asked questions by the press pertaining to character attacks made by Donald Trump regarding his history of marital infidelity and alleged sexual abuse, Clinton bobbed and weaved as best he could. 
"The Republicans will have to decide who they are nominating," Mr. Clinton told MSNBC's Andrea Mitchell about his feelings toward Trump's campaign. "How I feel is only relevant once they pick a nominee."
"We're trying to win a primary," he added. "We've got to do that first."  
When asked by Cecilia Vega of ABC News to respond to Trump's comments about his past, Clinton issued a similar response:
"Republicans have to decide who they want out there," he said. "I'm trying to tell the Democrats in the country I think Hillary will be the best president. And I think there's always attempt to take the election away from people, so I'm just going to give it to him."
Give what to Trump? The satisfaction of being right?
Watch video of Bill Clinton's answer below.
Trump has been on attack mode ever since Hillary accused Trump of being sexist.
The real estate mogul saw Mr. Clinton's past as fair game in a discussion centered on sexism and respect for women.