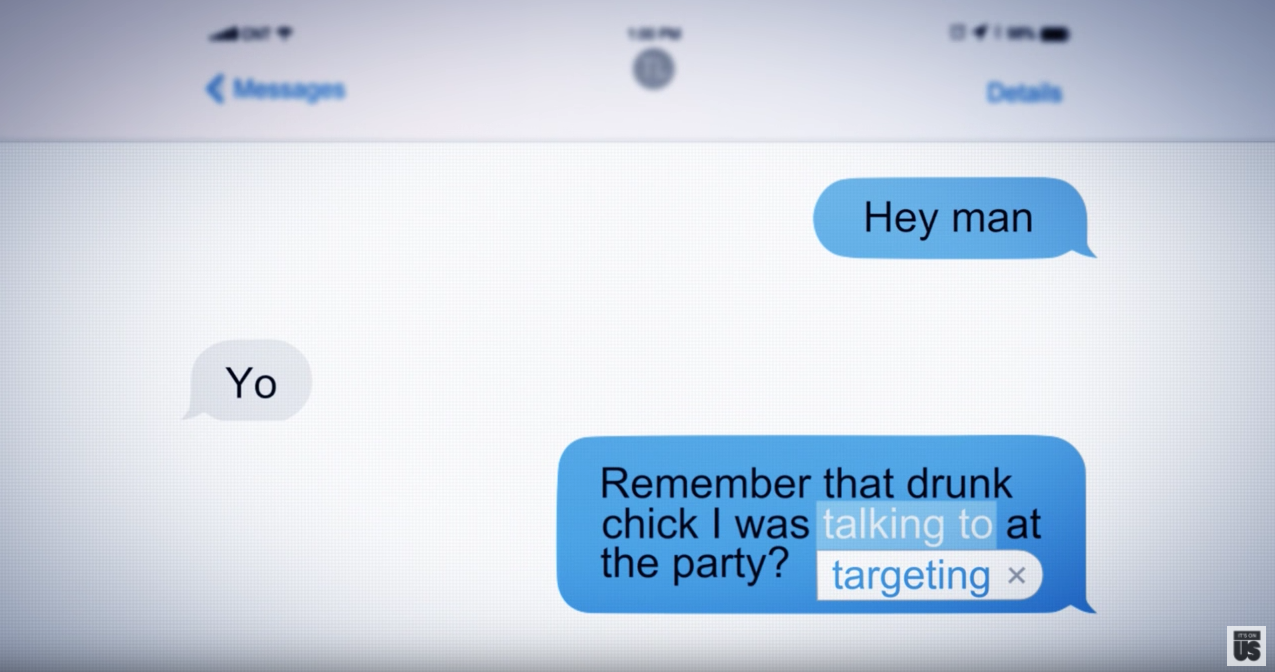 The neo-Puritan push to criminalize male sexuality is getting some help from the Biden Foundation.
In a tweet on Tuesday, former Vice President Joe Biden sharply stated any sexual activity that is not consensual is rape, and shared a video from the "It's On Us" campaign regarding sexual assault. However, the scene depicted in the public service announcement he shared wasn't rape.
In the video, a man, presumably a college student, is texting his friend about a recent sexual encounter. As the man explains his consensual activity, the words are changed to imply the man was a creepy pervert who raped a woman. Instead of the man saying he successfully encouraged a woman to have sex, the video claims he instead forced her to have sex. His friend's words are changed to say that, through a third party's intervention, a rape was prevented:
The It's On Us campaign, originally launched by the Obama administration and subsequently reportedly picked up by the Biden Foundation, seeks to bring awareness to sexual assault by categorizing almost all sexual activity as sexual assault.
According to modern feminist activists, most sexual activity constitutes rape. Drunken college hook-ups are considered rape even if the man is equally as drunk as the woman and they both consented while intoxicated. If you don't stop having sex every 10 minutes to ask a woman if she wants to keep going and if she consents to each and every little move, it's considered rape. If a woman eventually relents and agrees to have sex, giving her affirmative consent, it is also considered rape if she later regrets her actions and feels like she was pressured.
The line between what is considered "rape" in modern times has gotten so thin that some organizations are handing out written contracts to consent to sex. There's even an app to record consent for people who are too lazy to fill out a form by hand. Of course, it's also rape if, at any time, a woman is no longer willing to engage in the activity that was agreed to on the written contract.
While conservatives are often viewed as the opponents of free and open sexuality, the feminist activists have a seething hatred of sex that isn't mechanical. Any spontaneity isn't consensual by definition and therefore, it's on the spectrum of "rape." Rape is no longer a strict definition of forced penetration; there's now a range of activities that fall on the sexual assault spectrum.
Feminists want to criminalize sex as a way to villainize male sexuality. Look no further than Cosmopolitan's recent article, which claims if a man wants a woman to actually enjoy herself during sex, it's because of his masculinity and the "masculinity achievement" he receives from his partner enjoying his company.
To feminists, the point of male sexuality is to serve female sexuality -- but only if he isn't receiving any personal satisfaction from it.
Thank you for supporting MRCTV! As a tax-deductible, charitable organization, we rely on the support of our readers to keep us running! Keep MRCTV going with your gift here!