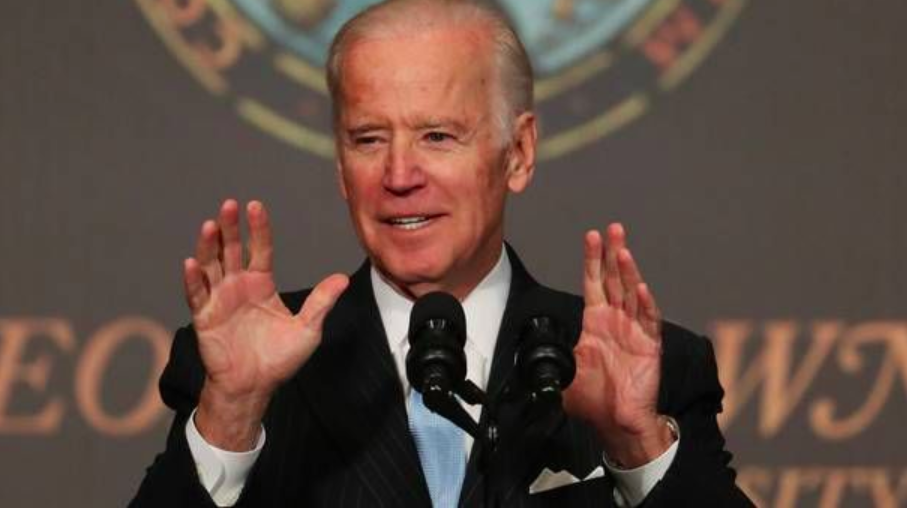 Image via Twitter
Former Vice President Joe Biden in a speech Thursday night said that while he and former President Obama "have been very quiet and respectful" ever since the 2016 presidential election, he believes it's time to "speak out" against President Trump.
Biden, speaking to foreign policy experts in Washington, D.C., argued that "it's time to challenge" the Trump administration.
"We are walking down a very dark path. It's not alarmist," he said. "The isolation of the United States on the world stage as a consequence endangers -- not strengthens -- American interests and the American people."
"I really feel incredibly strongly that the women and men sitting before me, who have been the intellectual backbone of the foreign policy establishment in this country for decades, have to start to speak out," Biden continued.
"President Obama and I have been very quiet and respectful, giving the administration time. Some of these roots are being sunk too deeply. I believe it's time to challenge some of the dangerous assumptions that are attempting to replace that liberal world order."
Biden cited President Trump's America first agenda, reports that Trump plans to decertify the Obama administration's Iran nuclear deal, and his speech to the UN General Assembly last month where he called North Korean leader Kim Jong Un "rocket man" and threatened to "totally destroy" the rogue nation, among other issues, as "political small-mindedness."
"For as long as I've been in politics, the United States has earned the respect of the world when we've led with our values," Biden went on to say. "We haven't been perfect by any stretch of the imagination ... but on balance, the world has always looked to us, believing that we mean what we say even if we don't always live up to it," he said, almost shouting.
"It's irresponsible. It's this brand of zero-sum thinking that I find the most disturbing and dangerous," Biden fired.
Unlike Biden, former President Obama has stayed relatively quiet since the election, with the exception of tweeting a quote, what became the most-liked tweet ever, after the violence in Charlottesville, Va., and issuing a statement condemning Trump's decision to terminate the Deferred Action for Childhood Arrivals (DACA) immigration program.
It is custom for U.S. presidents to stay mute about their successors.  
By the sound of Biden's remarks, Americans can expect to hear from Mr. Obama soon and more often.
Thank you for supporting MRCTV! As a tax-deductible, charitable organization, we rely on the support of our readers to keep us running! Keep MRCTV going with your gift here!