Blaming a lack of campaign funds Sen. Kamala Harris (D-Calif.) Has dropped out of the 2020 Presidential race on Tuesday.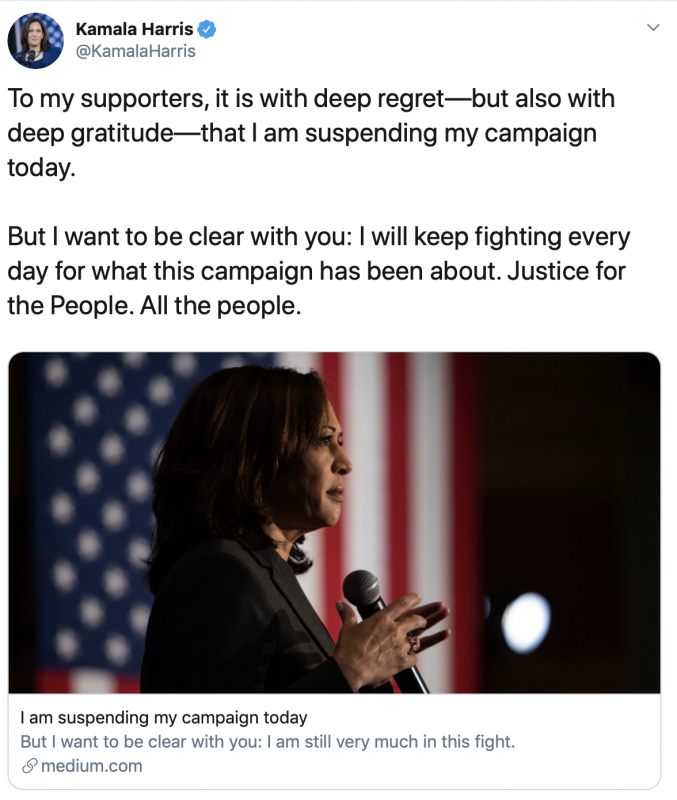 In a post on medium Harris said:
I've taken stock and looked at this from every angle, and over the last few days have come to one of the hardest decisions of my life.

My campaign for president simply doesn't have the financial resources we need to continue.

I'm not a billionaire. I can't fund my own campaign. And as the campaign has gone on, it's become harder and harder to raise the money we need to compete.

In good faith, I can't tell you, my supporters and volunteers, that I have a path forward if I don't believe I do.

So, to you my supporters, it is with deep regret — but also with deep gratitude — that I am suspending my campaign today.
MRCTV Reader,
The liberal media are terrified of the truth, especially when it leads to uncomfortable questions about their own leftist worldview.
MRCTV is the multimedia division of MRC featuring original content and aggregated videos of the news, people, and events conservatives care about.
MRCTV relies on the support of our loyal readers (and video viewers) to keep providing the news and commentary that matter to the American people, not just stories that prop up the liberal agenda.
Make a donation today. Just $15 a month would make a tremendous impact and enable us to keeping shining the light where the liberal media are afraid to tread.
— The MRCTV Team
DONATE
Connect
Sign up for our MRCTV newsletter to receive the latest news.
Sponsored Links