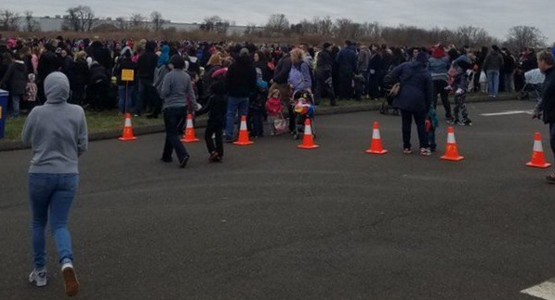 PEZ, a company famous for making cartoon character candy dispensers, was to host their third annual Easter egg hunt but they never could have guessed what would turn a family-fun event into a total disaster.
Families traveled to PEZ's headquarters in Orange, Conn., to take part in a hunt for more than 9,000 eggs spread between three fields. PEZ staff intended to stagger start times for each age group but a massive wave of parents totally disregarded the rules and shoved their way through the fields, taking everything.
"Unfortunately people chose to enter the first field prior to anyone from Pez staff starting the activity. The crowd moved to the second field, waited for only a couple of minutes and proceeded to rush the field without being directed to do so and before the posted start time," Pez officials said in a statement on Saturday.
PEZ General Manager Shawn Peterson told WFSB some adults "rushed the field and took everything," comparing them to "locusts."
One mother, Nicole Welch, said parents "bum-rushed" the area, not only knocking children over and trampling them but also stealing eggs from their baskets.
"Somebody pushed me over and took my eggs and it's very rude of them and they broke my bucket," said 4-year-old Vincent Welch.
"When my son left he had a broken basket and he was hysterically crying," Nicole said. "I'm not going to take my kids where they don't consider the safety of my kids in any way, shape, or form."
"We made efforts to get everyone something before they left and passed out tons of candy and coupons and the front entry and tried to make the best of an unfortunate situation. Due to the actions of a few, the good intent quickly turned into a mess. I would like to sincerely apologize to each of our guests, this was not something created to frustrate or make people angry. We only wanted to do good for the local community," PEZ said in a statement.
Read PEZ's full statement here.