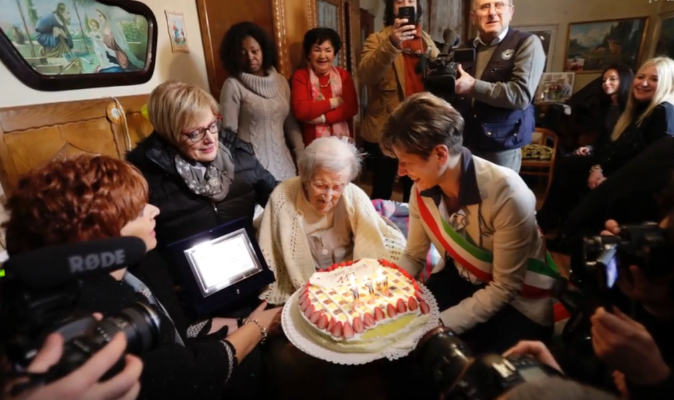 There must be something in the olive oil in Italy.
Emma Morano, the world's oldest living person, celebrated her 117th birthday Tuesday at her home in Verbania, Italy.
According to WGN:
Emma Morano received a greeting from Italy's president [Sergio Mattarella, read by an official, and a visit from two elderly nieces and her long-time physician on Tuesday morning to mark the milestone birthday. She patiently responded to a series of questions from journalists and accepted some gifts, including cookies.
Morano is thought to be the last person alive that was born in the 1800s (she was born in 1899).
CBS News pointed out that Italians are particularly known for their lengthy lifespans, especially those that live along the Mediterranean Sea.
"Her longevity is a genetic fact, nothing else," said her physician Dr. Carlo Bava. "She is a person who from a young age had a difficult life that would have sapped the energy out of anyone."
According to CBS News:
He said Morano's husband beat her and she lost an infant son to crib death at 6 months. She supported herself working in a factory making jute bags, then in a hotel, working well past retirement age.
Bava said that Morano smiles a lot and is "very decisive," but Morano didn't divulge her secret for her longevity.
"I am happy to turn 117," Morano said.
Happy birthday, Emma!