During a three-hour standoff between protestors and police, visitors were evacuated from the Statue of Liberty because a woman decided to climb Lady Liberty to protest ICE and President Trump's "zero tolerance" immigration policies.
The woman was identified by the BBC as a 44-year-old Congolese immigrant named Therese Okoumou. She, along with her group of protestors, said they wouldn't leave until "all the children are released."
Okoumou even scaled the leg of the Statue of Liberty at one point.
Officer Brian Glacken, who was present at the scene, said that Okoumou was not friendly with authorities "at first," threatening to "push us off, push the ladder off, but we stayed with her."
Eventually officers were able to get close enough to Okoumou to bring her down using ropes and harnesses. Glacken said that after she calmed down, "She actually apologized to us for having to go up and get her."
Okoumou is affiliated with Rise and Resist, a "direct action group committed to opposing, disrupting, and defeating any government act that threatens democracy, equality, and our civil liberties." The group has posted instagram images calling for the abolishment of ICE.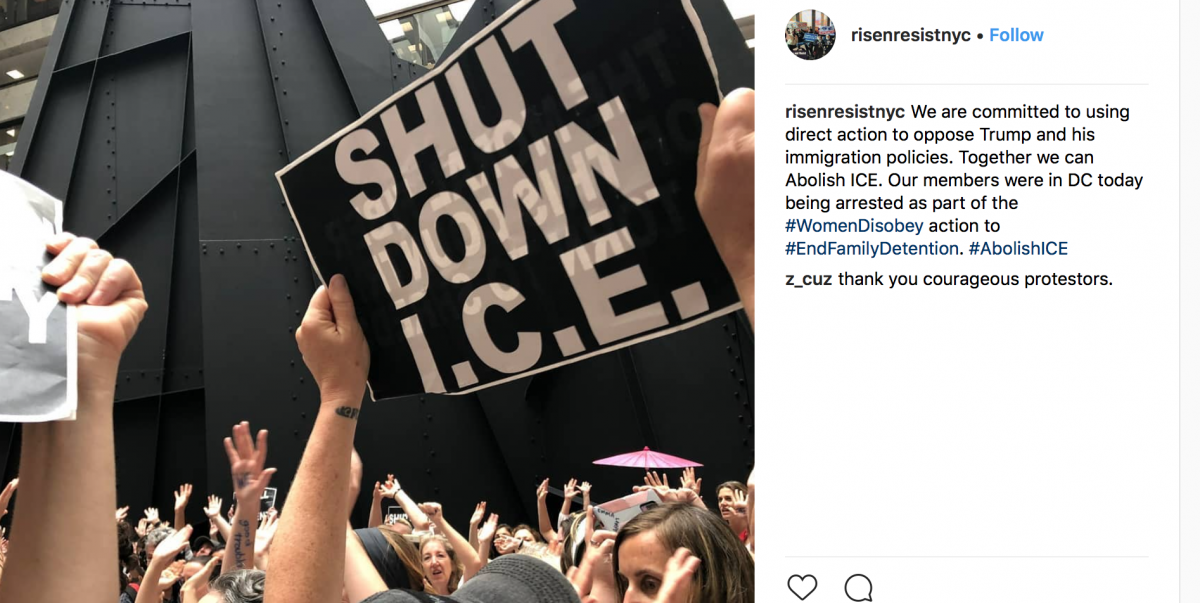 Groups and individuals have been rising up against Immigration and Customs Enforcement ever since AG Jeff Sessions announced the Trump administration's "zero tolerance" immigration policy. Former Sex & The City star and gubernatorial Democratic candidate for New York Cynthia Nixon called for the complete abolition of ICE last month on The View.
MRCTV Reader,
The liberal media are terrified of the truth, especially when it leads to uncomfortable questions about their own leftist worldview.
MRCTV is the multimedia division of MRC featuring original content and aggregated videos of the news, people, and events conservatives care about.
MRCTV relies on the support of our loyal readers (and video viewers) to keep providing the news and commentary that matter to the American people, not just stories that prop up the liberal agenda.
Make a donation today. Just $15 a month would make a tremendous impact and enable us to keeping shining the light where the liberal media are afraid to tread.
— The MRCTV Team
DONATE
Connect
Sign up for our MRCTV newsletter to receive the latest news.
Sponsored Links