Update (7/27/2020, 1:12 p.m.): ESPN issued a correction on Twitter now claiming that players from both teams walked off the court before the national anthem. Not sure how they could mess up a report like that so terribly considering all one needed to do to confirm the original report would have been to open their ears and listen for the anthem.
Original Story: I'm sorry, but until I heard that both of the teams playing walked off the court before the national anthem, I had no idea the Women's National Basketball Association (WNBA) was still a thing, let alone an idea that they were returning to playing games.
Anyway, apparently all the players from both the New York Liberty and Seattle Storm walked off the court on Saturday to promote social justice and racial equality. The players couldn't hear any reaction from the crowd, because there were no fans in the stands due to the COVID pandemic. Although, that's really not that different than the number of people that watch them on TV.
Here's video of the teams walking off the court:
Critics of the move by both teams took to Twitter to respond to their actions: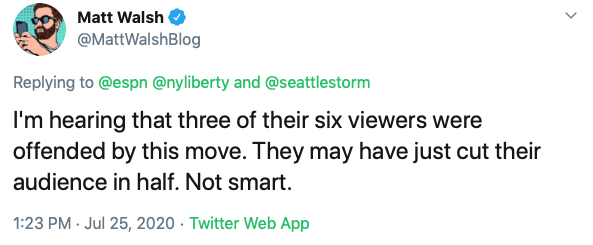 I don't really have to talk that much trash about yet another sports league, because they do a good enough job making themselves look like "useful idiots" all on their own. Plus, as you can see above, Twitter is always a great place for smack talk while maintaining its status as being a cancerous platform.