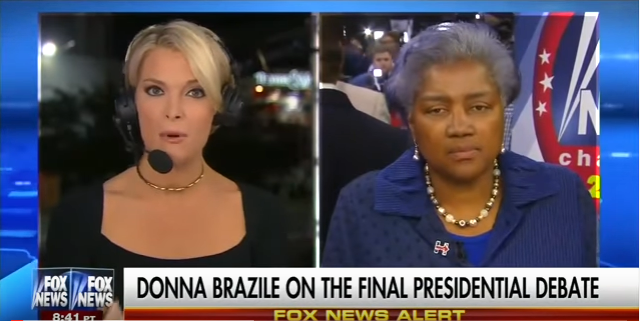 Roughly two weeks ago, DNC interim chairwoman Donna Brazile was found to have given Hillary Clinton a question in advance of a CNN town hall during the Democratic primaries, as discovered from John Podesta's emails released by WikiLeaks.
Now, in what seems to be a continuous October Surprise, more newly released emails show that Donna Brazile gave even more questions to Clinton in advance of a presidential debate -- which was, somewhat suspiciously, also hosted by CNN.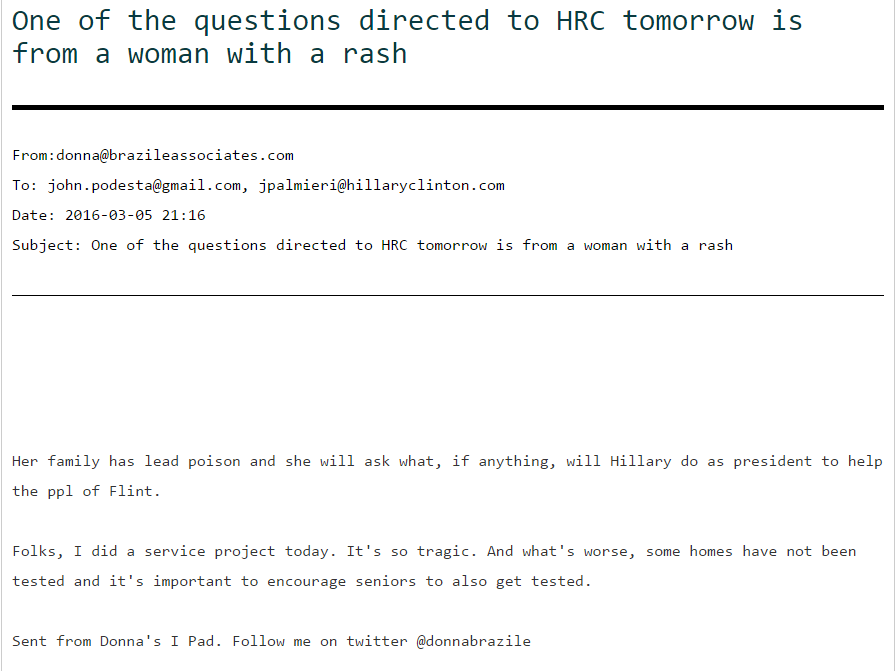 The email was sent March 5, the day before a CNN democratic presidential debate with Clinton and Sanders hosted by Don Lemon and Anderson Cooper.
Sure enough, a woman asked during the debate,
 After my family, the city of Flint and the children in D.C. were poisoned by lead, will you make a personal promise to me right now that, as president, in your first 100 days in office, you will make it a requirement that all public water systems must remove all lead service lines throughout the entire United States, and notification made to the – the citizens that have said service lines?
The news follows similar allegations that Brazile has leaked questions to the Clinton camp in advance of these events. In an email dated March 12, 2016, with the subject line, "From time to time I get the questions in advance," Brazile is shown to have typed a question that Clinton was to receive, word for word, at a CNN town hall the following night (March 13, 2016) with opponent Bernie Sanders.
The specific question from Brazile's email read:
On Mar 12, 2016, at 4:39 PM, Donna Brazile wrote: Here's one that worries me about HRC. DEATH PENALTY 19 states and the District of Columbia have banned the death penalty. 31 states, including Ohio, still have the death penalty. According to the National Coalition to Abolish the Death Penalty, since 1973, 156 people have been on death row and later set free. Since 1976, 1,414 people have been executed in the U.S. That's 11% of Americans who were sentenced to die, but later exonerated and freed. Should Ohio and the 30 other states join the current list and abolish the death penalty?@brazileassociates.com>
Sure enough, Clinton was asked the question at the CNN town hall the very next day by Roland Martin. Brazile was vice-chair of the DNC at the time, but soon took over for Debbie Wasserman Schultz in July, after Schultz resigned following leaked emails showing the DNC's attempts to undermine the Sanders campaign.
Brazile gave a recent, now-infamous interview on The Kelly File after the email leak, in which Megyn Kelly challenged Brazile on claims that she'd given Clinton questions in advance. Brazile denied and deflected, calling Kelly a "thief" and claiming the emails were "falsified information" while refusing to say where she'd gotten the question in the first place. Tech experts verified that Brazile's emails were not doctored or manipulated in any way.
What's more troublesome than Brazile sharing questions with Clinton's campaign is the disturbing question that remains: How does she receive these questions in the first place? CNN has denied sharing questions with candidates before debates, but these emails certainly raise questions.
Following this latest revelation, Brazile tweeted on Sunday:
Brazile was either alluding to the leaked emails showing her corruption, or to the FBI re-opening an email investigation into Clinton's private email use, which Brazile described as "an 18-wheeler smacking into us."
Update: CNN announced Monday morning that they accepted Donna Brazile's resignation on Oct. 14. Laura Pratapas, a CNN spokeswoman, stated, "CNN never gave Brazile access to any questions, prep material, attendee list, background information or meetings in advance of a town hall or debate. We are completely uncomfortable with what we have learned about her interactions with the Clinton campaign while she was a CNN contributor."
Brazile continues to stand by her statement on Oct. 11 denying that she leaked the questions, and made this remark on Twitter about her departure from CNN:
Thank you for supporting MRCTV! As a tax-deductible, charitable organization, we rely on the support of our readers to keep us running! Straight from Founder and President, Brent Bozell, please read the MRC request for support here to see how you can join the movement!