File this next one under "a" for "a"bsolutely "a"bsurd.
A principal in New Jersey issued an apology after what some called questionable wording on his school's tickets to their yearly prom.
Principal Dennis Perry wrote a letter to the Cherry Hill High School East community apologizing for using the phrase "party like it's 1776."
Now before I let you know why Perry apologized, I have to be honest and say that I couldn't figure out what the reason could possibly be before reading the story. Especially, after learning that the phrase was used because the school's prom is being held at the National Constitution Center.
So why did Perry apologize? Racism, of course!
"It was insensitive and irresponsible not to appreciate that not all communities can celebrate what life was like in 1776," Perry wrote in the letter. "I especially apologize to our African American students, whom I have let down by not initially recognizing the inappropriateness of this wording."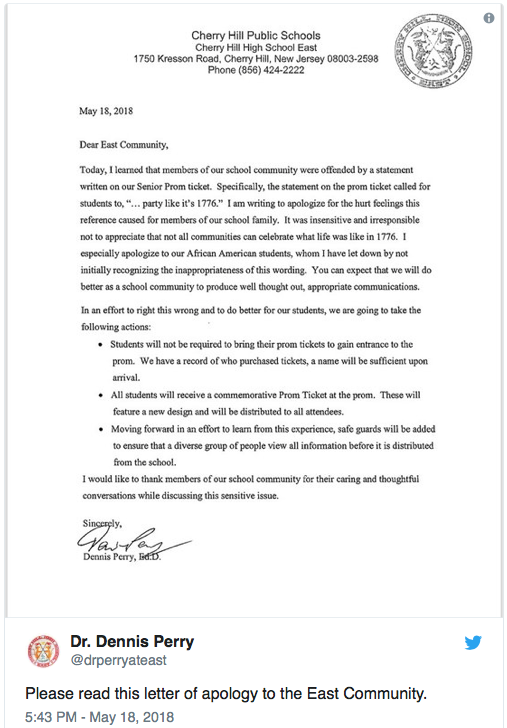 Stop apologizing.
For the people who complained about the prom ticket phrasing, you're looking for racism. If there was no intent of racism, no thought that something could possibly be racist about this or you're not a racist yourself, then what's the problem?
People looking to be offended or claim racism are the biggest racists of the bunch.
I'll just leave this here as evidence of that: