Boko Haram kidnapped about 500 young girls and children before fleeing the Nigerian town of Damasak ahead of troops from Niger and Chad, it was revealed by a former resident today. Damasak is liberated, but its streets are strewn with debris and burnt-out cars, and the children, aged 11 and under, may be missing forever.
"They took 506 young women and children (in Damasak). They killed about 50 of them before leaving," Souleymane Ali, a trader, told Reuters. "We don't know if they killed others after leaving, but they took the rest with them."
Wives and daughters were seized.
"(Boko Haram) said 'They are slaves so we're taking them because they belong to us'," Ali told Reuters.
They have vanished into the bush with their militant overlords, just like the 300 schoolgirls from the city of Chibok abducted in April. That kidnapping briefly held the world's attention with #BringBackOurGirls.
The girls haven't been heard from since, and Boko Haram (which means "Western education is forbidden") has gone on to pledge allegiance to the Islamic State – in addition to its usual activities of terrorizing and seizing land in the northern Nigerian province of Borno state.
Maina Maaji Lawan, the senator who represents the north of Borno state, told the BBC that "the case in Damasak was typical and many hundreds of children were missing."
"The very young ones they give to madrassas [Islamic schools]… and male ones between 16 and 25, they conscript them and they indoctrinate them as supply channels for their horrible missions."
Another trader interviewed by Reuters, Mohamed Ousmane said the militants took his two wives and three children. The decomposing bodies of over 70 people were discovered under a bridge near Damasak last week.
"We've seen the worst possible things you can imagine, so after a certain point there was no point in trying to leave," said Ali to Reuters. "They killed all our friends, our family members, so we just submitted ourselves to God."
Ali's wife and three daughters were kidnapped.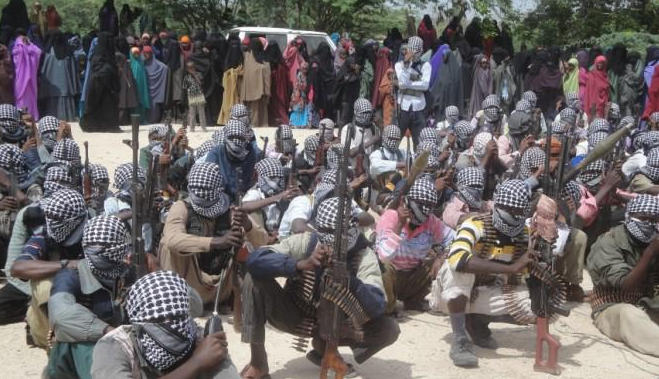 Boko Haram has "adopted increasingly sophisticated tactics to advance its goal of carving out an Islamic state in some parts or all of northern Nigeria," says Jacob Zenn of West Point's Combating Terrorism Center.
While at one time Boko Haram was content with drive-by assassinations and setting fire to churches and schools, things changed in February 2013.
The Nigerian government detained family members of Boko Haram, and the terrorist group retaliated by kidnapping a French family. Boko Haram released the family in exchange for a $3 million ransom.
Ever since, the group has used kidnapping as its primary funding source. Boko Haram found that in addition to large ransoms, it could extract concessions from the government of Nigeria and threaten government officials.
Boko Haram's motivation for kidnapping has shifted, however. While the group once used the kidnapped as bartering chips, in early 2013, it changed tacks.
"During the month of Ramadan in June 2014, there were six female suicide bombers, all under 16-years-old, who carried out four attacks at universities and fuel stations in Kano, a military barracks in Gombe, and a fuel station in Lagos. In addition, one 10-year-old girl was detected with a suicide vest in Katsina in July 2014," writes Zenn. "The explosives were placed under the girls' hijabs or clothing and detonated remotely, possibly without them knowing."
Boko Haram may have kidnapped as many as 2,000 women since 2013, but most incidents are unreported.
At this point, kidnapped girls (Boko Haram's leader Shekau calls them "slaves") serve several purposes for the group. The girls are not allowed to continue their schooling, and must convert if they're not already Muslim. They then become anything the group needs, from cooks to lures in ambushes, to suicide bombers and increasingly, wives for the militants.
Boko Haram sees women and children as expendable. Before a recent battle, the "husbands" slaughtered their "wives" "so that nobody could remarry them," an eyewitness reported to AFP. Witnesses reported dozens of women's bodies in the town after its capture.