Nelly is in trouble!
You remember Nelly, right? The rap superstar from the late 90s who graced us with the hits "Hot In Here" and "Country Grammar?"
No? Okay. Let me familiarize you with Nelly's genius. Here is a cover version of one of his hit songs as preformed by a college a cappella group:


Happy?
Alright, on to the story.
Nelly has found himself in a bit of trouble with the taxman. According to reports, the rapper owes $2,412,283 to the IRS. In 2016 rap terms, that is not "on fleek."
Enter Spin magazine. They believe that Nelly is being unfairly targeted by the IRS, and are encouraging fans to "Get as many people as possible to stream his hit song 'Hot in Here' — or 'Ride Wit Me,' or any other tunes from the Nelly discography — to generate funds for the artist."
Here's how this works: Every time you stream one of Nelly's songs on Spotify, the artist receives somewhere between $0.006 and $0.0084. That means that Nelly would only need roughly 287,176,547 streams in order to raise the funds to keep him out of debtors prison. Get to it, America!!!
It's a risky strategy, but Nelly's fans seem to be responding. The hashtag #SaveNelly has been trending on Twitter over the last few days. One fan is even using the fundraising effort to make up for his own past mistakes.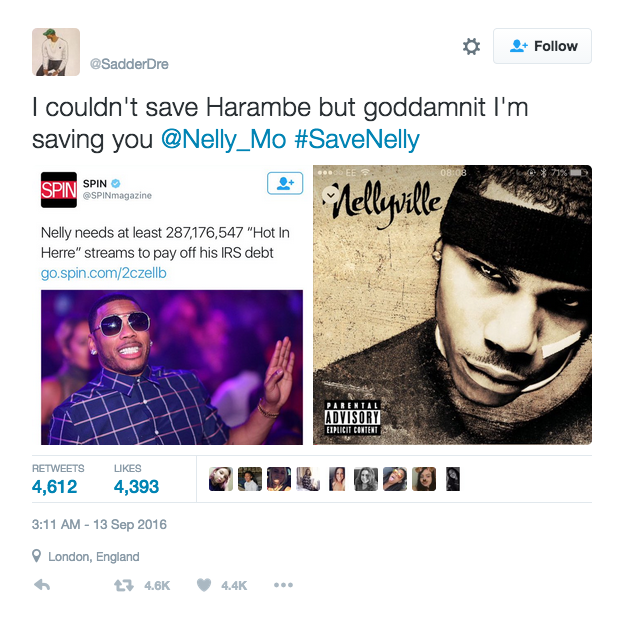 Of course, if you are considering giving some of your hard earned cash in order to help Nelly pay his staggering tax bill, you may want to take some of his earlier exploits into account. 
Last year, Nelly was arrested after his tour bus was pulled over and police discovered a stash that included "…crystal-type rocks that tested positive for methamphetamine; a "small amount" of marijuana; approximately 100 small Ziploc bags and "numerous" handguns, including a gold-plated 50-caliber Desert Eagle pistol."
But that was LAST YEAR! People change.