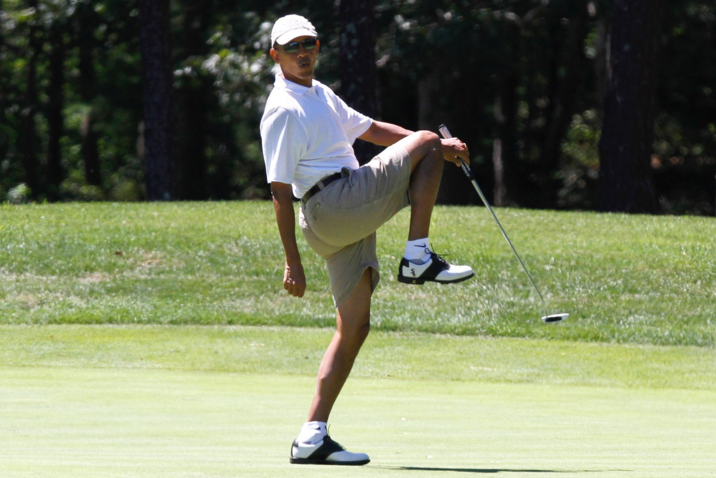 (Image via Twitter)
Despite violent riots in Milwaukee and devastating flooding in Louisiana, President Obama remains on his two-week vacation in Martha's Vineyard, enjoying rounds of golf with celebrities such as professional basketball player Chris Paul and comedian Larry David.
The White House issued a press release on Friday amid backlash and criticism for the President's inaction, indicating that Obama plans to visit Baton Rouge, La., on Tuesday, after he wraps up his vacation time.
"While in Martha's Vineyard, the President has received updates on the situation in Louisiana, including from the DHS Secretary and the FEMA Administrator, who took separate trips there," the press release reads. "The President today directed his team to coordinate with Louisiana officials to determine an appropriate time for him to visit, and together they have determined that the President will visit Baton Rouge, Louisiana on Tuesday, August 23rd. Additional details will be announced in the coming days." 
The White House goes on to say that Obama is "mindful of the impact that his travel has on first responders and wants to ensure that his presence does not interfere with ongoing recovery efforts," as if his presence was a factor in his decision not to leave Martha's Vineyard sooner. 
"He is also eager to get a first-hand look at the impact of the devastating floods, hear from more officials about the response, including how the federal government can assist and tell the people of Louisiana that the American people will be with them as they rebuild their community and come back stronger than ever," the statement concludes.  
The catastrophic flooding in Louisiana left at least 13 people dead and several injured.
According to Gov. John Edwards (D), an estimated 40,000 houses have been damaged and 30,000 people have been rescued.
NPR reports that, as of Friday, more than 86,000 people have registered for FEMA assistance.