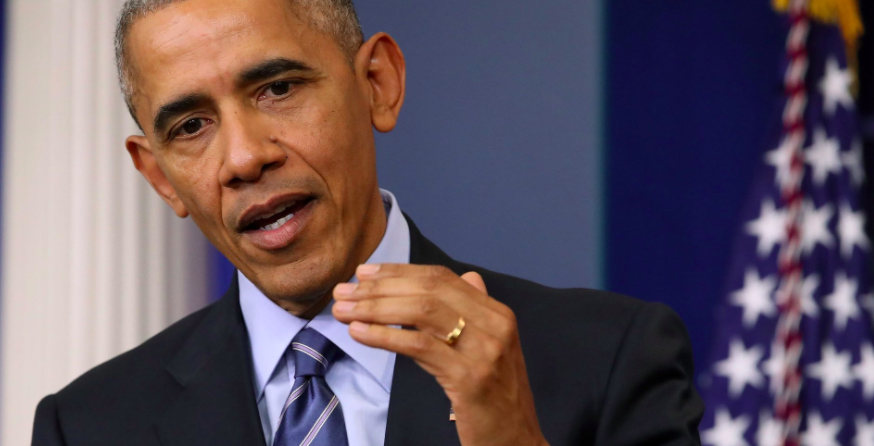 (Image via Twitter)
President Obama in a statement on Thursday announced a series of retaliatory measures against Russia in response to its "malicious cyber activity" involving the U.S. election and "aggressive harassment" of U.S. officials abroad. 
"All Americans should be alarmed by Russia's actions," writes the President. "In October, my Administration publicized our assessment that Russia took actions intended to interfere with the U.S. election process. These data theft and disclosure activities could only have been directed by the highest levels of the Russian government. Moreover, our diplomats have experienced an unacceptable level of harassment in Moscow by Russian security services and police over the last year. Such activities have consequences." 
Obama issued an executive order on Thursday that provides the U.S. government with additional authority to respond to cyber threats that seek to interfere with or undermine election processes or institutions, including those of America's allies or partners. 
With that new authority, the U.S. has sanctioned nine entities and individuals, including two Russian intelligence services, the Main Intelligence Directorate (GRU) and the Federal Security Service (FSB), four top officials of GRU, and three companies that provided material support to GRU's cyber operations.
Other retaliatory measures include the shutting down of two Russian compounds, one in Maryland and one in New York, and declaring 35 Russian intelligence operatives "persona non grata."
Those individuals and their families have been given 72 hours to leave the U.S.
The Obama administration will be releasing a Joint Analysis Report (JAR) conducted by the Department of Homeland Security (DHS) and Federal Bureau of Investigation (FBI) that contains declassified technical information "to better help network defenders in the United States and abroad identify, detect, and disrupt Russia's global campaign of malicious cyber activities," a press release on the retaliatory measures reads.
President Obama noted that there will be further consequences imposed on Russia, "some of which will not be publicized."
"These actions are not the sum total of our response to Russia's aggressive activities," his statement reads. "We will continue to take a variety of actions at a time and place of our choosing, some of which will not be publicized."
Other retaliatory measures may include economic sanctions and diplomatic censure, MRCTV reported. 
MRCTV Reader,
The liberal media are terrified of the truth, especially when it leads to uncomfortable questions about their own leftist worldview.
MRCTV is the multimedia division of MRC featuring original content and aggregated videos of the news, people, and events conservatives care about.
MRCTV relies on the support of our loyal readers (and video viewers) to keep providing the news and commentary that matter to the American people, not just stories that prop up the liberal agenda.
Make a donation today. Just $15 a month would make a tremendous impact and enable us to keeping shining the light where the liberal media are afraid to tread.
— The MRCTV Team
DONATE
Connect
Sign up for our MRCTV newsletter to receive the latest news.
Sponsored Links