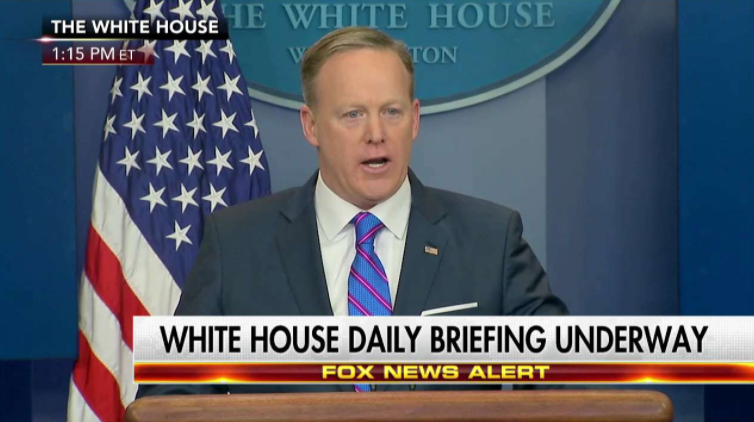 (Image via Twitter)
White House press secretary Sean Spicer during Tuesday's press briefing addressed Gen. Michael Flynn's resignation as President Trump's national security adviser.
The retired general resigned late Monday evening after reports that Flynn discussed U.S. sanctions against Russia with the Russian ambassador to the U.S. and gave a misleading representation of the conversation to members of the Trump administration, including Vice President Mike Pence.
Spicer explained that when the President initially heard about the conversation, "he instinctively thought that General Flynn did not do anything wrong."
After more information came to light, Trump became concerned that Flynn had misled the Vice President and others, leading to his decision to ask Flynn for his resignation.
"What this came down to was a matter of trust," said Spicer. "We got to a point not based on a legal issue but based on a trust issue, where the level of trust between the President and General Flynn had eroded to the point where he felt he had to make a change."
"The President was very concerned that General Flynn had misled the Vice President and others," he went on. "He was also very concerned in light of sensitive subjects dealt with by that position of national security advisers like China, North Korea and the Middle East, that the President must have a complete and unwavering trust for the person in that position."
The White House press secretary maintained that Flynn did not commit a legal violation "of any sort," emphasizing that President Trump's decision was based on trust and trust alone.  
"There was nothing wrong or inappropriate about those discussions," said Spicer. "It purely came down to a matter of trust."
Critics say Flynn's conversation with Russian Ambassador Sergey Kislyak was illegal, in violation of the Logan Act which prohibits private citizens from conducting U.S. displomacy, let alone involving themselves in disputes with foreign governments.
Since the conversation took place late December before Trump assumed office, Flynn was not yet an authorized government official.
The Kremlin has denied claims that Gen. Flynn discussed lifting sanctions on Russia with Kislyak.
President Trump is now in the process of selecting a new national security adviser. 
Thank you for supporting MRCTV! As a tax-deductible, charitable organization, we rely on the support of our readers to keep us running! Keep MRCTV going with your gift here!