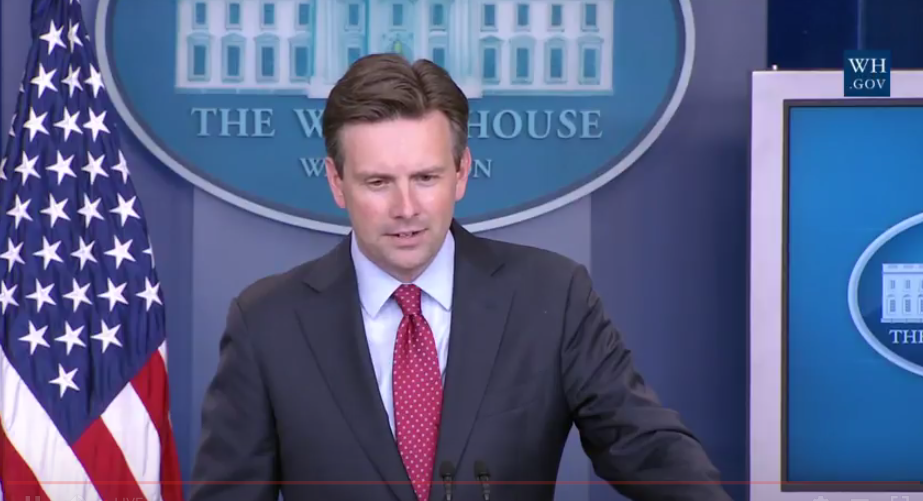 (Image via Screenshot)
The White House continues to deny that the secret cash payment of $400 million to Iran in January was a ransom for four American hostages despite statements made by the State Department indicating otherwise.   
When asked to address the discrepancy in a press briefing on Monday, White House spokesman Josh Earnest doubled down on President Obama's claim that the money was not a ransom but part of a settlement deal with Iran. 
He explained there were three "separate tracks" of negotiation.
The first was the nuclear deal, "preventing Iran from obtaining a nuclear weapon" and "rolling back key aspects of their nuclear program."   
The second track was settling a three-decade-old financial dispute between the U.S. and Iran that the White House claims the $400 million in cash was being sent for as an installment. 
The third was the hostage negotiations, which Earnest claimed was wholly independent from the cash settlement.  
"And on a separate, third track of negotiations, the United States succeeded in executing a mutual prisoner release that allowed four Americans who had been unjustly detained in Iran to come home," he said.
When asked if the President was aware that senior national security officials objected to the release of cash due to concerns surrounding timing and optics, Earnest replied, "The President of course discussed these arrangements with members of his national security team and there was unanimous agreement among his national security team that he should move forward because of the many benefits I just described."
President Obama flatly denied the claim that the payment to Iran was a ransom in an Aug. 4 press conference, saying, "We do not pay ransom. We didn't here, and we won't in the future."
State Department spokesman John Kirby admitted during a press briefing on Thursday that the cash was, in fact, ransom for four Americans being held hostage in Tehran, contingent upon their release.