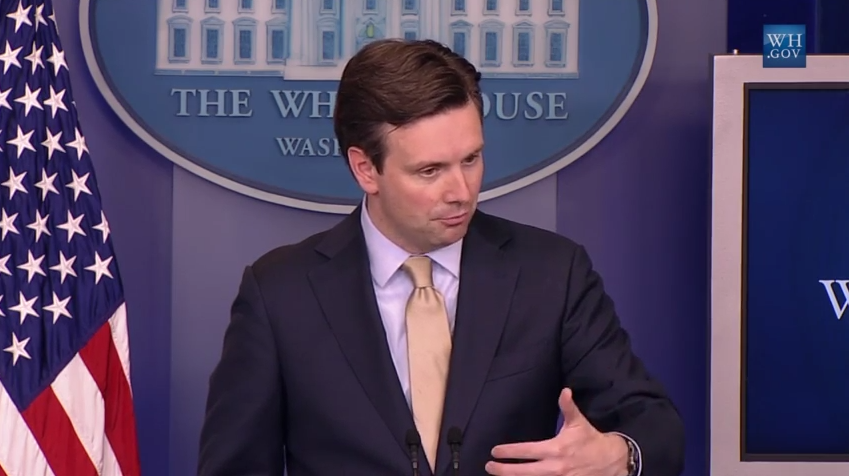 No doubt a prelude to the President's remarks later today, White House press secretary Josh Earnest used Monday's press briefing as an opportunity to blast Senate Republicans for supposedly hindering the Commander-in-Chief's strategy against ISIS. 
"There is numerous elements to this strategy, including military airstrikes carried out by U.S. and coalition aircraft in support of local fighters on the ground," he began. "This is understandably the most conspicuous aspect of our strategy, and it's an important one."
"Now there is a less conspicuous but similarly important element of our strategy – and that is preventing ISIL from funding the violence that has destabilized an entire region."
"Back in December, David Cohen, who was then undersecretary for Terrorism and Financial Intelligence at the Treasury Department, briefed all of you on these important efforts," Earnest told the press. "Since then, Mr. Cohen has been appointed to be the deputy director of the CIA.
"And back in April, nearly three months ago, Adam Szuben was nominated to take over this critically important post – but Senate Republicans haven't even scheduled a hearing for him," he stated with palpable grit in his expression.  
"That is to say," Earnest continued, "Senate Republicans won't even give the time of day for a hearing to the person who is responsible for using all the elements of our influence and authority to keep ISIL from raising money on the black market or otherwise to recruit foreign fighters, inspire others to commit acts of terrorism, and attempt to establish a caliphate in the Middle East."
"So today, the President will be meeting with a group of individuals in the Pentagon who are doing their jobs to keep the American people safe..."
"Well now it's time for Republicans in the Senate to do their jobs for a change," Earnest fired.  
As the terror group continues to make headlines in the U.S. and to reign terror on innocents in the Middle East, critics are questioning whether the President's strategy to "degrade and ultimately destroy ISIL" is working.  
Monday afternoon at 3:55 p.m. EST, the President is set to deliver a statement from the Pentagon regarding U.S. efforts to combat terrorism, domestic and abroad. 
For Earnest's remarks, check out the short video clip below.