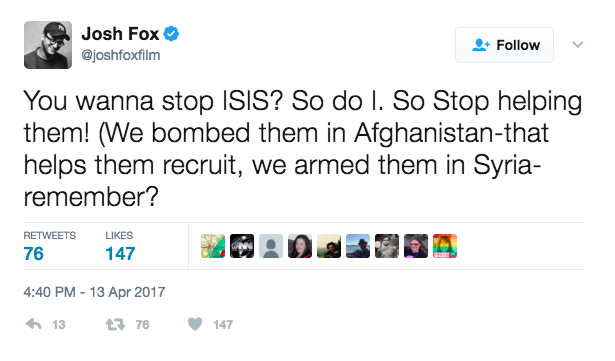 The Washington D.C. public school system refuses to publicly condemn its spokesperson after she posted on various social media accounts about wanting to "abolish" all white men.
Hilary Tone, a white woman who serves as the D.C. Public Schools communications director, reportedly made posts on multiple social media accounts about her desire to eliminate white men.
On Twitter, Tone retweeted a story about former Texas Gov. Rick Perry, who has been chosen to serve in President-elect Donald Trump's administration as Energy Secretary, despite saying he wanted to abolish the Energy Department during his 2012 presidential campaign.
"In that case, I would like to be Secretary of White Men," Tone added to the story, implying she would like to eliminate white men: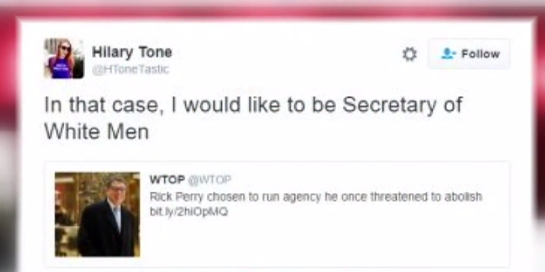 Tone's comments about wanting to abolish white men didn't end there. In a separate Facebook post, Tone posted, "If wanting to get rid of something qualifies you to run it, I would like to be Secretary of White Men":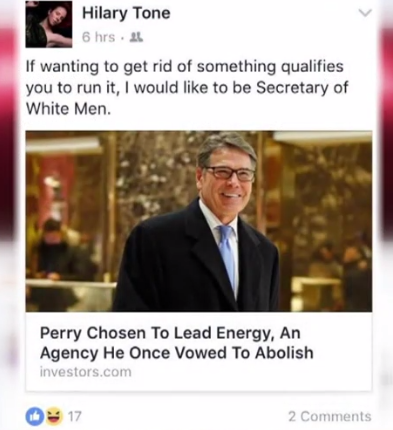 Tone states on her Twitter profile that she runs the Twitter for DCPS, though her views "do not represent DCPS."
Despite DCPS claiming they're "diverse and proud of it," they did not condemn Tone's posts about wanting to eliminate large portions of the American population. Instead, they mentioned the social media posts were made on personal accounts:
The social media posts were said on an employee's personal social media accounts and do not reflect the views of DC Public Schools, which prides itself on being an inclusive organization regardless of race, ethnic background, religion, sex, language, family's income level, or immigration status.
According to demographic information provided by DCPS, the school system is only 13 percent white as of 2015-2016, meaning Tone's comments directly called for the elimination of minorities within the school system.
Tone has since apologized for her posts being in "poor taste" rather than for their message.