No corner of American life is safe from leftist globo-homo propaganda. Spiderman is the latest victim. The latest "Spider-Verse" variant in the comic book series "Edge of Spiderverse" is a gay spinoff character "Web-Weaver", as reported by CBR June 28.
The "Edge of Spiderverse" series is known for creating new versions of Spiderman with their own stories. It's part of the larger "Spiderverse" series that explores the same kind of story telling. Most of the time the new alternate "spidermans" are a large departure from the traditional Spiderman, with unique character traits, backstories and idiosyncrasies. 
Of course, being the liberals that Marvel are, this new spiderman will focus in on his gayness, and his "His fearlessly femme identity," as writer Steve Foxe said about his new creation.
Marvel introduces its first gay Spider-Man as the latest Edge of Spider-Verse variant.https://t.co/NBfaib3dpU@steve_foxe @kristaferanka @DanSlott pic.twitter.com/DCfYWKEETo

— Comic Book Resources (@CBR) June 28, 2022
This isn't the first time that Spiderman has been used to overtly champion leftist agendas. The least subtle rendition was in the 1970s, when Spiderman was teaming up with Planned Parenthood to procure abortions for the people to foil an evil mastermind known as "The Prodigy."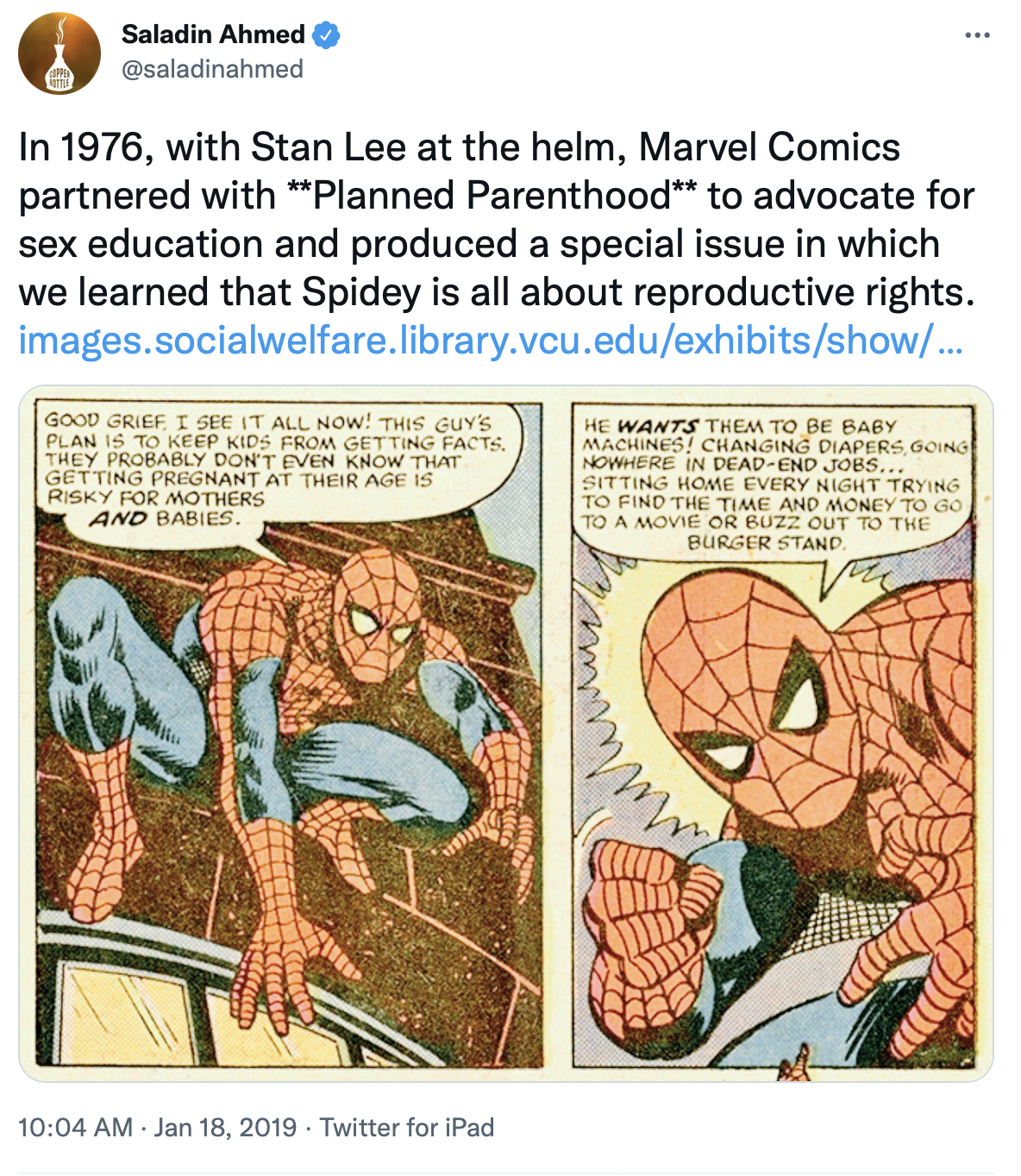 Yes, your eyes do not deceive you. In the wake of the Roe v. Wade verdict in the 1970s, The Spiderman teamed up with Planned Parenthood. 
I wish this was some elaborate prank, but it isn't. 
Related: Marvel to Unveil a Gay 'Captain America' In Time For ... - MRCTV
Marvel unveiled a new gay, "femme" character, whatever that means. Nothing new here, just typical leftist attempts to shoehorn sexuality discussions into their media. 
What else is new?
Follow MRCTV on Twitter!
.@againstgroomers is ready to take on the sexual indoctrination of children, including the ending of drag queen story time. https://t.co/HBQ1I8BAbV

— MRCTV (@mrctv) July 1, 2022