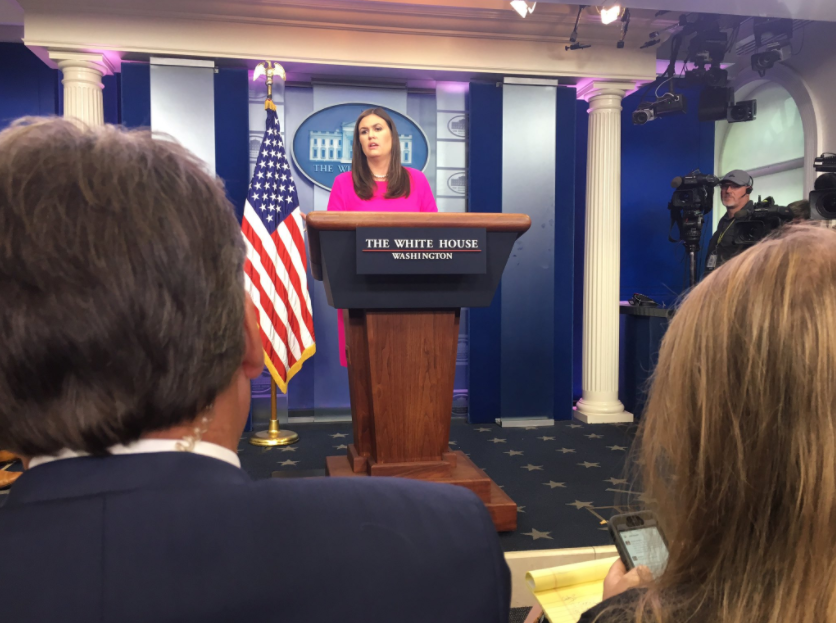 White House press secretary Sarah Huckabee Sanders during Monday's briefing addressed Anthony Scaramucci's removal as the White House communications director, after just 10 days on the job.
"As we've said several times before, what matters most to us is not who's employed in the White House, but who's employed in the rest of the country," she said. "And we're focused on the president's agenda of growing the economy, creating jobs, and that's what we're gonna do and that's what we're going to be focused on."
Sanders conceded that President Trump felt Scaramucci's foul comments about former chief of staff Reince Priebus and chief White House strategist Steve Bannon were "inappropriate for a person in his position." 
"He didn't want to burden General Kelly also with that line of succession," she added, referring to the chain of command. 
In a statement announcing Scaramucci's removal, the White House said the Wall Street financier "felt it was best" to give new Chief of Staff John Kelly "a clean slate and the ability to build his own team."
"Anthony Scaramucci will be leaving his role as White House Communications Director," the statement reads. "We wish him all the best."
Scaramucci was reportedly removed at the request of former Department of Homeland Security secretary Gen. Kelly.
Kelly was sworn in as the new White House chief of staff on Monday.
Sanders would not disclose whether it was President Trump or Kelly who directly asked for Scaramucci's resignation. She said that the White House is "exploring our options" for his replacement. 
Scaramucci's departure comes just days after his vulgar remarks about former White House chief of staff Reince Priebus and chief strategist Steve Bannon went public and dominated headlines.
For more, check out the Fox News report below.
Thank you for supporting MRCTV! As a tax-deductible, charitable organization, we rely on the support of our readers to keep us running! Keep MRCTV going with your gift here!