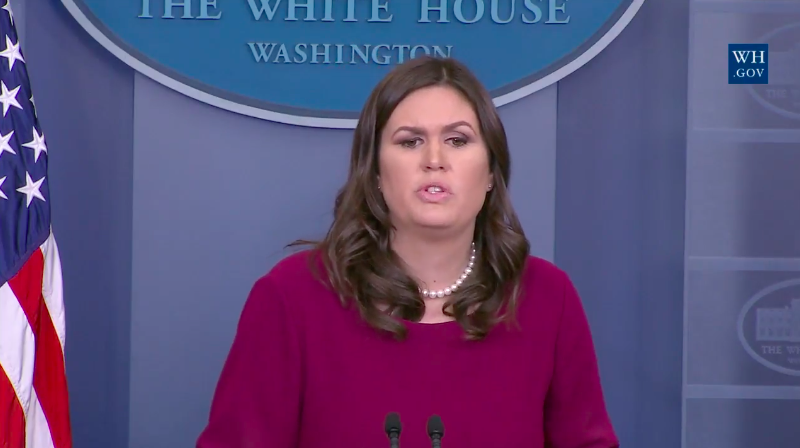 Image via Screenshot
The White House during Monday's press briefing called for Congress to work with President Trump on immigration reform following the terror attack in New York City Monday morning.
"This attack underscores the need for Congress to work with the president on immigration reforms that enhance our national security and public safety," said White House press secretary Sarah Huckabee Sanders. "We must protect our borders, we must ensure that individuals entering our country are not coming to do harm to our people, and we must move to a merit-based system of immigration."
Sanders added that "we must also destroy the evil ideology that is behind ISIS."
"This ideology has no borders but it must be eradicated," she said.
When asked if Trump is concerned with a growing threat in the U.S. of people inspired by ISIS, Sanders replied, "The President is certainly concerned that Congress, particularly Democrats, have failed to take action in some places where we feel we could have prevented this, specifically the President's policy has called for an end to chain migration."
"If that had been in place, that would have prevented this individual from coming to the United States," she argued.
"The President is aggressively going to continue to push forth responsible immigration reform," Sanders continued, "and any chain migration would certainly be a part of that process."
27-year-old male Akayed Ullah, who is currently in the hospital from injuries sustained after detonating a pipe bomb attached to his body in Manhattan, came to the U.S. from Bangladesh with an immigrant visa. He was living in Brooklyn as a permanent legal resident, working as a licensed taxi driver leading up to the attack.
Law enforcement says it was an ISIS-inspired attack.
Sanders said she was not at liberty to discuss specific details about Ullah aside from him having entered the country through chain migration. 
Thank you for supporting MRTV! As a tax-deductible, charitable organization, we rely on the support of our readers to keep us running! Keep MRCTV going with your gift here!