White House press secretary Sarah Huckabee Sanders on Tuesday defended President Trump's controversial tweet suggesting that the FBI "missed all of the many signals" about the Florida school shooter because the bureau was preoccupied with "trying to prove Russia collusion with the Trump campaign."
"The President doesn't really think that the FBI failed to stop the Parkland shooter because it was too involved with the Russia investigation, does he?" a reporter asked.
Sanders responded that Trump was simply "making the point that we would like our FBI agencies not to be focused on something that's clearly a hoax."
"The cause of this is that of a deranged individual that made a decision to take the lives of 17 other people," she said. "That is the responsibility of the shooter, certainly not the responsibility of anybody else."  
President Trump on Saturday tweeted that it's "very sad that the FBI missed all of the many signals sent out by the Florida school shooter."
"This is not acceptable," he goes on. "They are spending too much time trying to prove Russian collusion with the Trump campaign - there is no collusion. Get back to the basics and make us all proud!"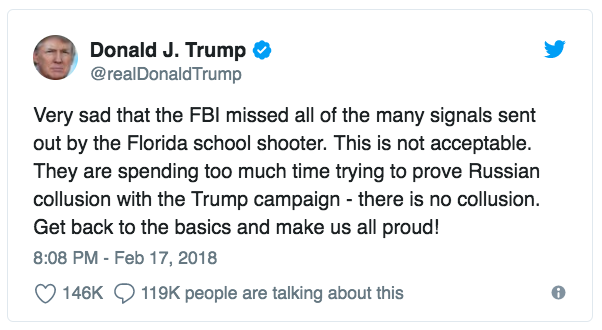 His tweet received widespread criticism, accusing him of blaming members of the FBI for the deaths of the 17 people killed in last week's school shooting.