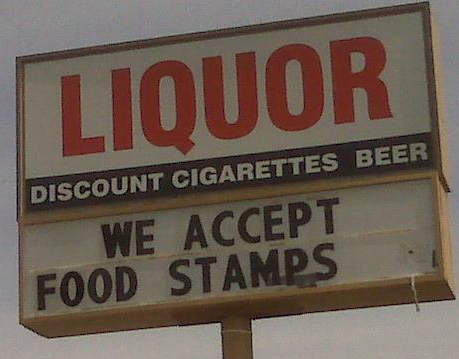 No more welfare-funded energy drinks, soda, cookies, chips, steak, or seafood for welfare recipients in Missouri?
Republican Representative Rick Brattin's House Bill 813 would prevent the 930,000 food stamp recipients from buying food that doesn't provide adequate nutrition - or food that is usually unaffordable for other working-class people - using their EBT (Electronic Benefit Transfer) cards.
A separate, less controversial bill, HB 977, sponsored by Representative J. Eggleston seeks to limit the purchase of  pornography, admittance to strip clubs, lottery tickets, alcohol, and cigarettes from SNAP (Supplemental Nutrition Assistance Program) or TANF (Temporary Assistance for Needy Families) recipients. 
Washington University professor Mark Rank authored Living on the Edge: The Realities of Welfare in America has issue with the seafood ban because seafood is healthy.
Rank says giving welfare beneficiaries more nutritious options like ability to use EBT cards at farmers markers "will go much further in improving diets than laws that merely reinforce paternalistic concerns over what poor people are and are not eating," reports St. Louis Riverfront Times.
The State of Illinois found that banning sugary drinks outright doesn't work because people will just buy soda with their own money while the USDA has rejected soda bans before.
Nutritional experts have been focused on ways to decrease the purchase of unhealthy foods. They connect the obesity epidemic in the youth to food stamps because 46 percent of SNAP recipients are children. Sugary drink consumption is high in the United States across-the-board, but recent research suggests lower-income people consume more sugary sweetened beverages.
Rep. Rick Brattin said his bill is one way to bring spending under control and return the focus of the program to nutrition:
"It will reduce the luster of the program and it will have the effect of a drawback because the ability to buy anything and everything under the sun will no longer be there," Brattin stated.