We live in the United States. So since when is it controversial to want actual Americans to have jobs and prosper? One American company doesn't think it should be — and judging by their Super Bowl ad, they are putting their money where their mouth is.
Automotive accessory maker WeatherTech spent the $5 million-plus it cost to buy Super bowl ad space to promote not only bring American jobs back to the U.S., but also putting America first.
The commercial featured the construction of a brand new factory that WeatherTech built on American soil, in Bolingbrook, Ill.
Some read way too much into the commercial by saying that WeatherTech was depicting building a wall on the Southern border of the U.S. with Mexico. WeatherTech CEO David MacNeil said that comparison is "absolutely ridiculous."
"Tying building a wall for a factory that will employ my fellow American citizens … [to] a proposed wall on the southern border with Mexico is absolutely ridiculous," MacNeil told Adweek.
The ad showed daily clips from construction of the new facility with this question at the end, "At WeatherTech, we built our new factory right here in America. Isn't that the way it's supposed to be?"
Here's the ad:
Surely, this commercial will receive backlash from those that are searching for something to complain about this week. Some on Twitter were either triggered by the ad, or they weren't too educated on what the ad was supposed to be: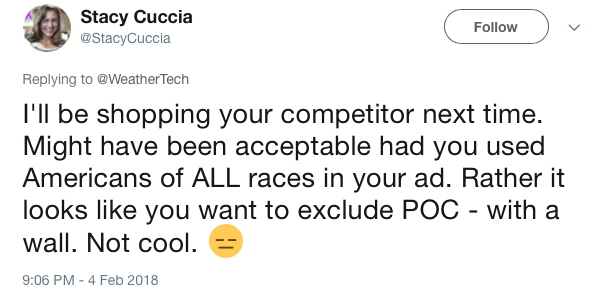 MacNeil put up a statement on the company's website — just below their Super Bowl ad — that clearly explains his company's position.
Here's the statement:
Today, America needs fresh leadership to lead us as a nation out of this economic crisis. Leadership must come not only from our political leaders but also from the average citizen. The exporting of American jobs is a trend that must be stopped and reversed. When I walk into my local hardware store, I typically find 85% of the goods for sale are manufactured 7,000 miles away. Recognizable American brands have been forced by shortsighted management and buyers at large national chains to build factories overseas just to save a lousy $.50 on a tape measure. To these ruthless buyers, it is all about the money. Rarely are product quality, the political system, human rights, animal rights and environmental costs to the planet considered, not to mention the cost to our society of exporting not only jobs, but an entire factory! At WeatherTech, we are doing our part for the American economy and for our 300 million fellow citizens and neighbors. My philosophy is that if my neighbor doesn't have a job, sooner or later I won't have a job either.
While the commercial should be pretty clear to anyone with half a brain, MacNeil explained it very simply for all those without one.
"It's an unconventional ad," MacNeil said, "[but] it contains one of the most important messages one can convey: We're building a new factory in America."
Enough said.
H/T: nj.com