Democratic presidential candidate Sen. Elizabeth Warren (D-Mass.) was trolled on Twitter today after she told the Twitterverse that we "owe our respect" to Indigenous People and must honor our promises to them.
"The story of America's mistreatment of indigenous peoples is long and painful. And yet, Native communities have proven resilient," Warren tweeted. "We owe them our respect—and we must honor our government's commitments and promises to them."
She then ended her tweet with #IndigenousPeoplesDay."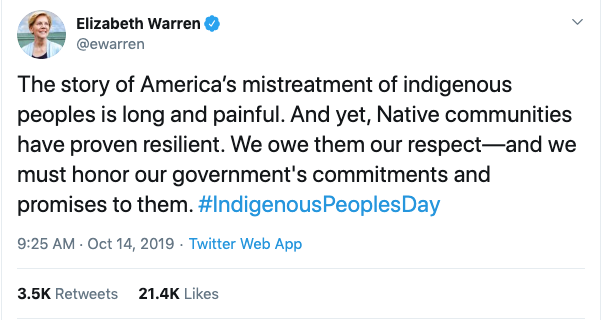 People on the social media site were quick to point out Warren's commitment to her false claims of possessing Native American heritage. The senator took a DNA test late last year which showed she was only 1/1024th (or 0.09 percent) Native American. 
Warren has claimed that she identified as Native American at times because that's what she was taught as a child and said she never used that to her advantage in the career world. But that claim hasn't sat well with many people. 
"Start by apologizing for pretending you were native and took a teaching job from a Native," someone tweeted.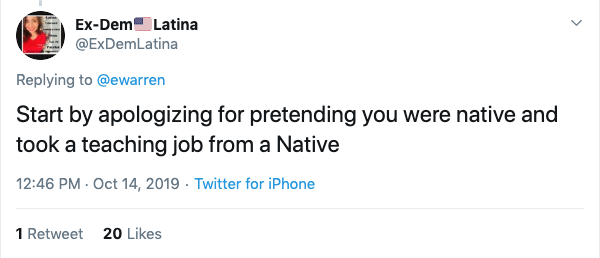 "Wait I thought you were, you know, an indigenous person. Shouldn't this have been written in the first person?" another posted.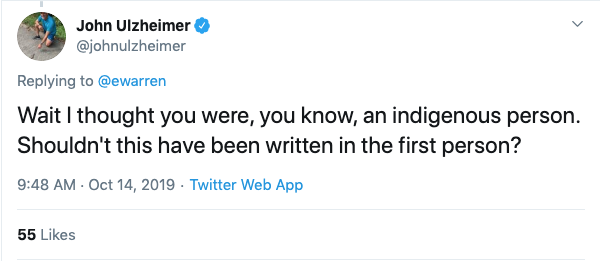 And the responses to Warren's tweet went on: