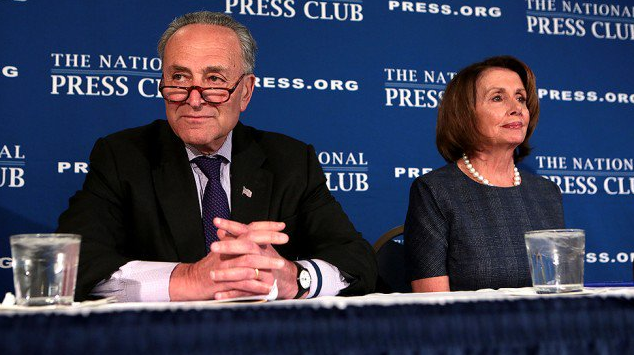 (Image via Twitter)
Democrats are making it known their continued disdain for President Trump during his address to Congress Tuesday night – some in more creative ways than others.
A group of Democratic women plan to wear white to the speech, "a nod to the women's suffrage movement, which encouraged followers to dress in white as a symbol of purity," reports NBC News.
The call to wear white was set forth by the House's Democratic Women's Working Group, chaired by Rep. Lois Frankel (D-Fla.), who described the symbolic protest as a committment to "the advancement of all women":
"We wear white to unite against any attempts by the Trump Administration to roll back the incredible progress women have made in the last century, and we will continue to support the advancement of all women," said Frankel in a statement. "We will not go back."
The demonstrators in white include Minority Leader of the House Nancy Pelosi (D-Md.).
Other Democrats invited guests to the speech to "troll" the president, so to speak.
Rep. Judy Chu (D-Calif.) invited a 35-year-old Iranian graduate student detained at Los Angeles International Airport for 23 hours as a result of Trump's temporary travel ban.
Outspoken Trump critic Massachusetts Sen. Elizabeth Warren announced plans to bring an Iraqi refugee as her guest.
Rep. Jared Polis (D-Colo.) plans to bring "a beneficiary of the Obama-era policy sparing illegal immigrants who came to the U.S. as children from deportation," reports Fox News.
He and other Democrats held a press conference just hours before the big speech introducing their "diverse guests." 
As a form of silent (and petty) protest, Rep. Eliot Engel (D-N.Y.) is refusing to shake President Trump's hand. 
Rep. Engel has sat along the aisle in the House Chamber and shook every president's hand since 1989, Fox News Insider reports, but will be breaking with tradition tonight.
One Democrat, California Rep. Maxine Waters, has simply decided to skip the speech altogether.
Another notable figure who is refusing to attend is Supreme Court Justice Ruth Bader Ginsburg.
While Senate Minority Leader Chuck Schumer (D-N.Y.) will be in attendance, he made sure to share before the event that he thinks Trump's speech will be "far less important than past presidents' addresses." 
How nice. 
Leading up to the speech, top House Democrats urged their fellow lawmakers to be "respectful" during Trump's speech to Congress, reports The Washington Examiner, including House Minority Whip Steny Hoyer (D-Md.), chair of the House Democratic caucus Rep. Joe Crowley (D-N.Y.), and Rep. Linda Sanchez (D-Calif.).
Still, many Democrats clearly can't help themselves.  
Thank you for supporting MRCTV! As a tax-deductible, charitable organization, we rely on the support of our readers to keep us running! Keep MRCTV going with your gift here!