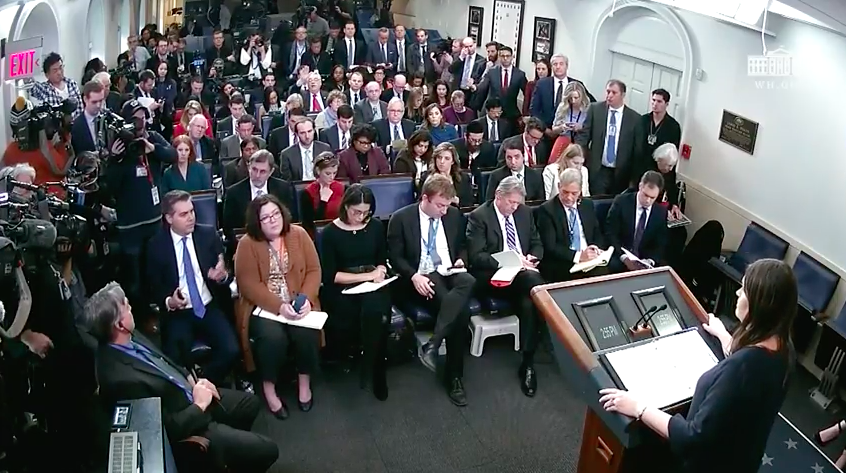 Image via Screenshot
White House Press Secretary Sarah Huckabee Sanders on Thursday shut down CNN senior White House correspondent Jim Acosta when asked to address President Trump's tweets on the FISA program.
Acosta asked Sanders to explain whether Trump actually understands the Foreign Intelligence Surveillance Act (or FISA Act) after he seemed to contradict his own administration's support of the bill's reauthorization by suggesting that it may have been used to "badly surveil" his campaign.
Trump's tweets came after a "Fox & Friends" segment on FISA, during which Fox News judicial analyst Andrew Napolitano urged Trump against reauthorizing the program. Trump directly quoted a banner graphic on the show.
Acosta suggested, "There seems to be a pattern … where the President watching something on 'Fox & Friends' and then he tweets about it."
"There have been folks out there that have said that there's a cause and effect, he watches 'Fox & Friends' and then he tweets about it. Is that what happened this morning?" he asked.
"I'm sure you're disappointed he's not watching CNN," Sanders said jokingly.
"I think he watches a lot of CNN, if you don't mind me," Acosta replied.
"Eh," she shrugged. "I don't think that's true. Your numbers would be higher," Sanders fired back, to "ooh's" from the rest of the press.
Acosta laughed, then tried to bounce back saying CNN's ratings are better "than we've been in a long time."
Fox News Channel finished out 2017 as the most-watched network in both primetime and total day for a second consecutive year, Deadline reports. For CNN, 2017 was its highest rated on record in total day but the network ranks No. 5 overall and No. 10 in primetime. 
MSNBC bested CNN in total day total viewers for the first time since 2012 and was ranked No. 3 overall, behind FNC and ESPN. 
"As I said, the president has a great deal of understanding," she went on, citing a presidential memo on Trump's support for the reauthorization of FISA. "So it's not something that just happened this morning."
"The president doesn't believe that Americans' rights or liberties should be abused, but he certainly believes that Americans should be protected. And that's why he supports it but has concern with FISA more generally," said Sanders.
She added that the president's early morning tweets do not contradict the administration's stance in support of the program, as Trump later tweeted that he "personally directed a fix" to the legislation and that "we need it" to surveil "foreign bad guys on foreign land."