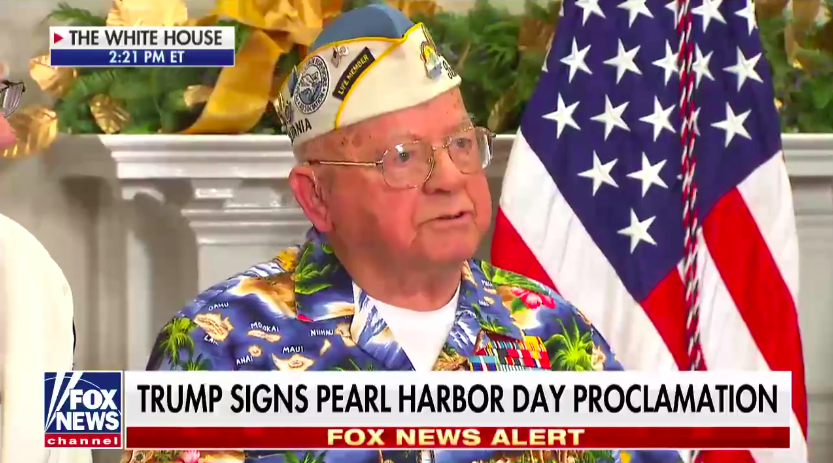 Image via Screenshot
During the proclamation ceremony at the White House on Thursday declaring Dec. 7 "National Pearl Harbor Remembrance Day," a veteran broke out in song.
President Trump was giving remarks on the national designation. 
"The legacy of that legendary American generation is carved deep into the stone monuments of history," said Trump. "Across the battlefields, oceans, and harrowing skies of Europe and the Pacific throughout the war, one great battle cry could be heard by American friends and foes alike: 'Remember Pearl Harbor.'"
"Have you heard that before, a couple of times? 'Remember Pearl Harbor,'" he asked, turning to the six veterans standing beside him.
The Navy WWII veteran standing closest to him smiled and began singing the lyrics to the song "Remember Pearl Harbor":
Let's remember Pearl Harbor as we go to meet the foe. Let's remember Pearl Harbor, as we did the Alamo.

We will always remember how they died for liberty. Let's remember Pearl Harbor, and go on to victory.
Retired Senior Chief Quartermaster and USS Pennsylvania survivor Michael "Mickey" Ganitch received a round of applause from everyone in the room.
On the 76th anniversary of Pearl Harbor, President Trump declared Dec. 7 "National Pearl Harbor Remembrance Day."
"Though the decades have passed, we are careful to never forget the lessons of Pearl Harbor," the now-signed proclamation reads. "Our Armed Forces must be strong and vigilant, prepared to fight and preserve all we hold dear. It is our greatest obligation -- our most solemn duty -- to ensure our Nation remains the land of the free and the home of the brave."
"I encourage all Americans to observe this solemn day of remembrance and to honor our military, past and present, with appropriate ceremonies and activities," writes President Trump. "I urge all Federal agencies and interested organizations, groups, and individuals to fly the flag of the United States at half-staff in honor of those American patriots who died as a result of their service at Pearl Harbor."
The White House flew the American flag at half-staff in accordance with the proclamation.
Thank you for supporting MRTV! As a tax-deductible, charitable organization, we rely on the support of our readers to keep us running! Keep MRCTV going with your gift here!