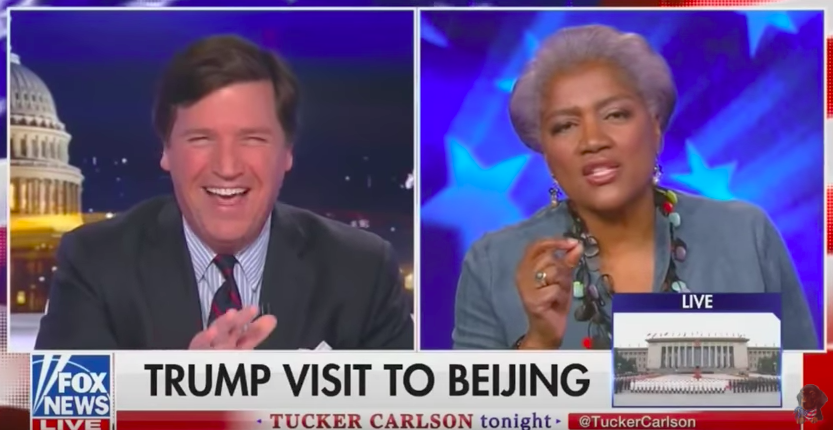 Image via Screenshot
Fox News' Tucker Carlson couldn't stop laughing in his interview with Donna Brazile Wednesday night when the former CNN contributor and interim DNC chair said she didn't want the 2016 Democratic presidential candidates "blind-sided" as an excuse for leaking questions to the Clinton campaign ahead of a primary debate.
"They've come after you and said, look, it's a little much for you to criticize the DNC for colluding with the Hillary campaign when you conceded that you leaked questions to the Hillary campaign during a CNN town hall – before a CNN town hall," Carlson said. "My question when I'm reading this is, did no one at CNN know that happened? Did they really learn for the first time when they read your book? How could they not have known that?"
Brazile tried to deflect by plugging her new book, "Hacks," where she reveals that the Democratic primary election was rigged in favor of Hillary Clinton.  
"Hold on now," Tucker interrupted, laughing. "Slow down. There was a question there: Did nobody at CNN know that you did that? … You apparently got them from…"
"Oh, no Tucker, you cannot put words in my mouth," Brazile replied. "I got on some lipstick from Fox, but that has not forced me to not stand my ground."
"No, but it's not your ground," Carlson responded. "I'm asking about CNN, where you then worked. They are mad at you, obviously. Did they know that you leaked these questions, really simple question?"
"You know, Tucker, I said last year…" Brazile started to answer.
"Sounds like you did," Tucker interjected.
"No, Tucker, don't try to put words in my mouth," said Brazile. "I said last year that CNN never provided us with any questions. CNN never gave us anything in advance. But what I did say, what I have said in the past, and what I say in this book is that I, as an officer of the DNC — and I know Wikileaks gave everybody, you know, certain questions and certain emails, but as an officer of the DNC, I sought to expand the number of debates, and I wanted to make sure that we had diverse voices, and we covered issues that had not been discussed in previous debates, and what I did … What I sought to do, Tucker, was to ensure that we had these issues on the table, and I wanted to make sure our candidates, I didn't want them blindsided. That's what I admitted to. Look, what Wikileaks put out…"
Tucker couldn't stop laughing. She neither outright confirmed nor denied leaking the questions, but said she didn't want the Democratic candidates "blindsided." Well, what about Bernie Sanders? 
"That's the greatest spin I've ever heard, 'I didn't want them blindsided,'" he said. "That's so good. You should do this for a living. That is hilarious."
Brazile went on to say that Wikileaks "sought to divide" the Democratic party when they released emails she allegedly sent to the Clinton campaign regarding the debate questions.
Despite admitting after the election to leaking questions to the Clinton campaign ahead of the 2016 primary debate, Brazile now claims that she is unable to substantiate the leaked emails on her end because CNN apparently never gave her the questions in advance and she could not find any record of such emails "on my laptop, desktop or server" following the DNC hack, she told the Washington Examiner. 
She said that if she did share anything with the Clinton campaign, that she would have also shared it with Clinton's competitor, Bernie Sanders.
Brazile is also attempting to walk back her own words that the fundraising deal the Clinton campaign struck with the DNC was "unethical" and a disadvantage to Sanders' chances at winning the Democratic party's nomination.
Check out video of her interview with Carlson below. Watch at the 16 minute mark for their back-and-forth.
Thank you for supporting MRCTV! As a tax-deductible, charitable organization, we rely on the support of our readers to keep us running! Keep MRCTV going with your gift here!